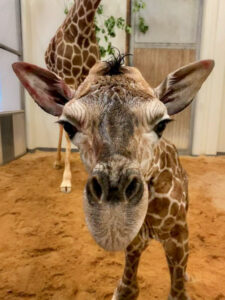 The North Carolina Zoo is excited to announce a soaring addition to its family. The Zoo's 13-year-old giraffe Leia gave birth to her calf—already about six feet tall—on Saturday, May 20. 
The 145-pound calf was born to parents Leia (cow) and Jack (bull). The first-time mom and her offspring are healthy and currently bonding behind the scenes. The Zoo has had 12 previous giraffe births, making this one lucky 13. 
The Zoo's animal care team will determine when mom and calf will join the herd—or tower (group of giraffes) on habitat and in public view. The public is encouraged to tune into the Zoo's social media channels for photos, updates, and information about how the calf will be named.
In a combined statement from the Zoo's Giraffe Zookeepers Kristi Myers, Jason Balder, Mary Wilson, and Kelly Davis: "Leia and her calf are doing amazingly well. Our team could not be prouder of how attentive Leia has been with her firstborn. Mom and calf are bonding behind the scenes. This new arrival brings the team lots of happiness and excitement to have some young, spunky energy around. The rest of the giraffe tower – Jack, Turbo and Amelia – are all very curious of the newbie and are bopping noses whenever they can."
Leia was born in 2009 at Zoo Miami and arrived at the Zoo in 2014. Jack was born in 2008 at Dickerson Park Zoo and arrived at the Zoo in 2009.
Their pairing resulted from a recommendation by the Species Survival Plan of the Association of Zoos and Aquariums (AZA) which maintains the genetic diversity of species that are in human care.
Giraffe calves are typically five to six feet tall and 150 to 200 pounds when born. This calf appears to be within those healthy parameters. Giraffes are pregnant for a long 14 to 15 months.
Giraffes are the tallest land animals. Female giraffes are up to 14 feet tall and weigh up to 1,500 pounds. Meanwhile, males are up to 18 feet tall and can weigh 3,000 pounds. At this height, a giraffe can look into a second-story window. Male and female giraffes can live to about 25 years in the wild and even longer under human care.
Fun fact: No two giraffes have the same coat pattern, like human fingerprints.
Comments
comments