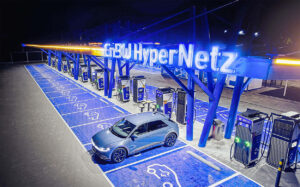 Italian high-powered EV station maker alpitronic just anounced plans to open their first US headquarters in Charlotte.
They will be investing over $18.3 million in the new facility, creating at least 300 new jobs with an average starting salary of $90,158.
"We're excited to start our operations for the US in Charlotte shortly," said alpitronic srl CEO Philipp Senoner in a press release. "Our decision to come to North Carolina, a state which is developing towards an e-mobility cluster, was consciously made based on the economic conditions. Within the next years we expect strong growth of our business based on our reliable high-performance charging solution, which is contributing to the transition towards e-mobility for passenger vehicles and trucks."
Established in Bolzano, Italy in 2009, alpitronic is the creator and manufacturer of the hypercharger, a high-power DC charging station capable of charging vehicles with up to 400kW. The company, which leads the market in Europe, not only designs and manufactures its own hardware but also develops its own software. The 70,000-square-foot alpitronic Americas headquarters will include an administrative office as well as a technology, test, and repair center to maintain its EV charging stations.
The state's bid to attract alpitronic to North Carolina was spearheaded by the North Carolina Department of Commerce.
The alpitronic project will receive support from a Job Development Investment Grant (JDIG) approved by the state's Economic Investment Committee earlier today. Over its 12-year term, the project is expected to contribute $832 million to the state's economy. According to a new tax revenue-based formula, the JDIG agreement permits a potential reimbursement to the company of up to $2,327,250 over 12 years. However, state payments are dependent on performance verification by the Departments of Commerce and Revenue, ensuring the company meets its job creation and investment targets. JDIG projects create a positive net tax revenue for the state treasury, even after reimbursement payments to the respective company.
Given that alpitronic selected a location in Mecklenburg County, a region classified as Tier 3 by the state's economic tier system, the JDIG agreement also stipulates the transfer of $775,750 into the state's Industrial Development Fund – Utility Account. This fund aids rural communities throughout the state by financing necessary infrastructure enhancements to attract future businesses.
What do you think about the new headquarters? 
Comments
comments