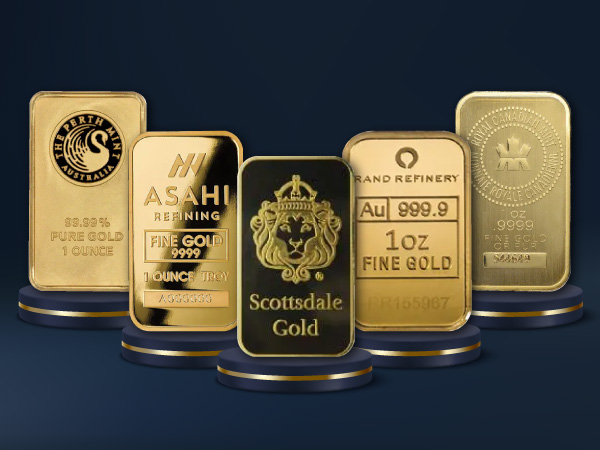 For thousands of years, people have used gold as money, jewelery, and investments. It is a valuable commodity often used to hedge against inflation and economic instability. Gold is also a popular choice for investors because it is a tangible asset that can be bought and sold easily. 
There are many different ways to Invest in 1 oz Gold Bars. Gold bars come in various sizes and weights, but the most popular size is the 1 oz gold bar. 
1 oz gold bars offer investors several advantages. They are easy to store and transport and have a high resale value. Gold bars also offer investors a way to diversify their portfolios and protect their wealth. 
If you are considering investing in Gold, read more about to buy 1 oz gold bars.
Why invest in 1 oz gold bars? 
Gold is a valuable commodity and often considered a safe investment, particularly during economic or political turmoil. There are many reasons to invest in gold, but some of the most common include the following:
Gold has intrinsic worth since it is a tangible good that cannot be manufactured or destroyed.

Gold is scarce and is not subject to the same kind of fluctuations as other commodities.

Gold is portable and easy to store, making it an ideal investment for those who want to diversify their portfolio.

Gold has a long history of being accepted as a global currency, so you can easily convert it into cash.
One oz gold bars are a popular choice for investors because they offer a convenient way to own and store gold. These bars typically have a lower premium than coins, making them more affordable for many investors.
Types of  Golds Bars
 Several gold bars are available on the market, each with unique characteristics.
Cast gold bars:

These bars are created by pouring molten gold into a mold. Cast bars are often less precise in shape and finish than other types of bars, but they are still of high quality. You can often purchase them at a lower premium than other types of gold bars.

Minted gold bars:

These bars are created by stamping a design into a blank piece of Gold. Minted bars are typically more precise in shape and finish than cast bars and often feature intricate designs or inscriptions. They can be more expensive than cast bars but may also be more desirable to collectors.
Gold bullion coins:

These are gold coins produced by government mints and made of pure gold or gold alloy. The most popular gold bullion coin is the American Gold Eagle, Canadian Gold Maple Leaf, South African Gold Krugerrand, Chinese Gold Panda, Australian Gold Kangaroo, and the Austrian Gold Philharmonic. They have a face value and are legal tender, but the coin's value is based on the spot price of Gold.

Gold commemorative coins:

These are gold coins that are minted to commemorate an event, person, or organization. They are not legal tender, and their value is based on the gold content and rarity. They can be more expensive than bullion coins due to their rarity and collectible value.

Gold bars with assay card:

These are gold bars that come with an assay card, a certificate of authenticity that guarantees the weight and purity of the bar. It includes the weight, fineness, and serial number. They can be more expensive than other gold bars but offer added security and peace of mind.
How to buy 1 oz gold bars
Buying 1 oz gold bars is a great way to add value to your investment portfolio. Gold bars are an excellent way to diversify your financial holdings, since gold has traditionally held its value over time. When purchasing 1 oz gold bars, there are several important things to consider.
First, it is important to make sure the gold bar you buy is authentic. When buying from a dealer, look for a reputable one that is certified by the Commodity Futures Trading Commission or the London Bullion Market Association. You should also ask for a certificate of authenticity for any gold bar you purchase.
Next, it is important to consider the cost of the gold bar. The price of gold bars can be affected by a variety of factors, including market fluctuations and the dealer's markup. It is important to compare prices from different dealers to get the best deal.
Finally, it is important to think about where you will store your gold bar. Gold bars should be stored in a secure location that is not easily accessible. You can store your gold bar in a safe deposit box, or purchase a safe specifically designed to store gold.
Where to buy 1 oz gold bars
There are several options for buying 1 oz gold bars, each with advantages and disadvantages. Here are a few of the most common sources:
Bullion dealers:

These companies specialize in the sale of gold, silver, and other precious metals. Some well-known bullion dealers include APMEX, JM Bullion, and

BOLD Precious Metals

. These companies have a wide selection of gold bars and often offer competitive prices. However, they may also charge higher product premiums than other sources.

Coin shops:

Local coin shops can also be a good source of gold bars. These stores may have a more limited selection than bullion dealers, but they can be convenient for those nearby. Additionally, coin shop owners can offer more personalized service and advice than larger online retailers.

Local gold and silver dealers:

These are local shops that deal mainly in precious metals, they may have a limited selection of gold bars, but they can be a convenient option for those who live nearby. Additionally, these dealers can offer more personalized service and advice than larger online retailers.

Online marketplaces:

You can buy gold bars on online platforms such as Amazon or eBay, but it is important to be careful when buying from an individual seller. Make sure to research the seller's reputation and authenticity before making a purchase, and check the return policy if the item differs from what is described.
Conclusion
Investing in gold with 1 oz gold bars is a great way to add diversity to any portfolio. Whether you are a beginner looking for a low-risk option or an experienced investor looking for a long-term diversification strategy, it can offer you a reliable and valuable form of physical gold. Gold bars are easy to buy and store and can be sold at a trusted gold dealer. With the potential to increase in value over time, gold remains a wise and viable investment option.
Comments
comments