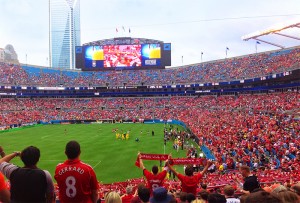 Great news for soccer fans – The International Champions Cup has just announced which teams will be returning to Charlotte this year.
We first reported on the cup 2 weeks ago when the host cities were announced.
They have now finalized the schedule and confirmed that on Jully 22nd, Liverpool FC will be taking on Borussia Dortmund at the Bank of America Stadium.
The tournament features 18 of the best clubs in the world playing 27 matches across the United States, Europe and Singapore.
Launched in 2013, the International Champions Cup taps directly into the growing passion for the world's most popular sport. Teams like Manchester United, Real Madrid, MLS' New York Red Bulls and others have made an impact on the tournament as it has picked up momentum on an annual basis.
The last time the ICC came to Charlotte in 2016, over 69,000 people filled the Bank of America stadium for the Inter Milan vs. FC Bayern Munich soccer match. This year, international organizers are planning for similar sized crowds to fill Charlotte during the global face-off.
This year, the Premier League's "Big Six" of Manchester City, Manchester United, Liverpool, Tottenham, Arsenal and Chelsea will all be playing in the tournament. They'll be joined by La Liga's Barcelona, Real Madrid, Atletico Madrid and Sevilla; Bundesliga stalwarts Bayern Munich and Borussia Dortmund; Serie A powers Juventus, Roma, AC Milan and Inter Milan; Ligue 1 champion-to-be PSG and Portugal's Benfica.
Comments
comments