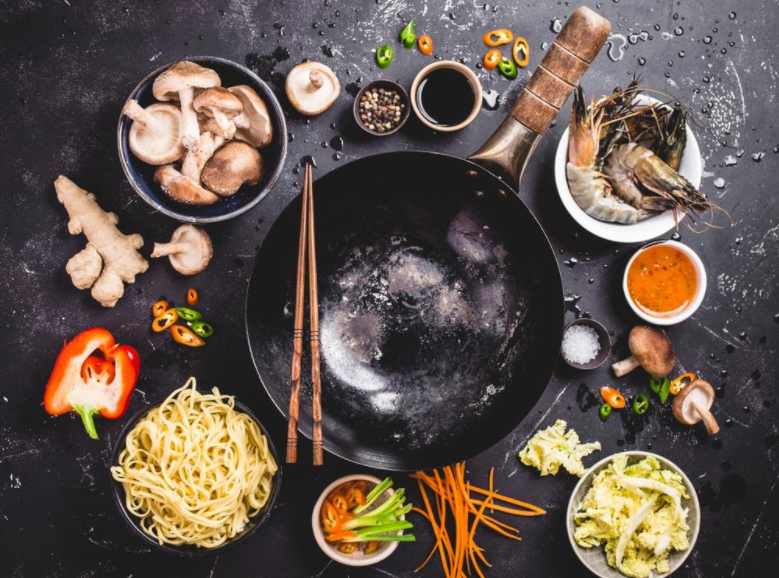 Indian food varies so much across the country that it's impossible to categorise it into a single national cuisine. The only thing they have in common is a profusion of meals made with beans and vegetables. The most popular cuisine in the southern states is hot curry, which is made with vegetables because many southerners are vegetarians. Many fish and seafood dishes are served on the west coast, where sea fishing has long been practised.
Spices and flavours make India what it is. Coriander, cardamom, cinnamon, and turmeric are the most frequent spices. Turmeric, cumin, garlic, and coriander are among the spices used in a well-known curry flavour. All spices are freshly ground and handmade. The most common use of these spices is pickling. Often Indian mothers preserve some specific foods in pickling. Tasty Indian Pickles online are loved all around the World.
Pickling is a common method used all around the world. To lower the moisture level of the meal before transferring it to vinegar, it can be steeped in brine. Preservatives such as the mixture of salt and mustard oil may be used in commercial pickling. This extends the shelf life of the pickles, as the food used for pickling develops preservatives on its own during fermentation. Let's take a look at the health advantages of eating veggie pickles. Indian Pickles have several health benefits, but they must be used in moderation due to potential adverse effects.
Those enormous porcelain jars brimming with freshly prepared pickles. Memories of happy holidays are evoked by sunbathing on terraces. A tablespoon of this sweet, tangy, spicy, and tasty Indian pickle is a must-have accompaniment to any meal. Mango pickles are the most popular Indian pickles, with hundreds of varieties.
Why Pickles are essential in Indian Cuisine?
Pickles are an essential component in Indian cuisine. At all meals, little chunks of lime and mango marinated in oil, salt, and other spices are presented. There are most of the Indian Pickle Brands in India which have long loved pickles, and they're even referenced in ancient Vedic texts! Pickles are popular because of their sweet and sour flavour. Pickles are a mainstay in India's diet due to their popularity, yet the tart lime pickles can be damaging to the health.
Why the sodium level in Indian pickles is considerable?
For seasoning and preparation, a large amount of salt is used in Indian pickles. Excessive salt in pickles raises the sodium level of our diet, resulting in negative health consequences such as water retention, abdominal bloating, elevated blood pressure, and increased renal workload. A high-salt diet decreases calcium absorption, resulting in inadequate bone density.
Why does Pickles from India have a lot of oil in them?
Pickles are preserved by the use of oil. Basically, oil works as a barrier between the pickles and moisture, preventing fungus, mould, and bacteria from invading the pickles. Trans fats are included in the oils used in pickles. During hydrogenation, Trans fats are introduced to the oil. Pickles with Trans fats have a longer shelf life. You should buy Indian Pickles online at Distacart.
These are some pickles which are commonly used in Indian Cuisine
Aam Ka Achaar 
This Punjabi-style pickle will give your dishes a kick, and it's the perfect complement to a full-blown North Indian feast. The flavour of mustard oil gives it character. A good appetite is one of the most well known Indian Pickles Benefits besides taste and aroma. It's made with raw mango and a variety of spices. Pickles are popular because of their sour and astringent flavour. When you think about pickles, the first thing that springs to mind is raw mango. The mango achaar tops the list of pickle flavours with its boosting taste and tangy flavours that are always delightful and leave you stunned. Raw mango pickles include citric acid, which aids digestion and assists to weight reduction. They can aid with liver and cardiac problems, as well as boost your immune system. Distacart has made it possible to buy Indian Pickles in USA.
Gajar Ka Aachar 
This pickle is a great way to spice up your winter meals. To get the most nutrition out of red carrots, season them fresh. In one mouthful, you'll get both sweet and acidic flavours!
Achaar with Green Chilli
Chilli aachar with mustard oil can give your food a fiery kick. They're finest served with parathas or as a side dish to any sabzi. The green chile pickle has been one of our favourites among the several pickle kinds! For those who like their meal hot, this next-level chilly achar will satisfy your cravings. This Chilli Achar, as the name says, stays true to its name and leaves a bit of chilli aftertaste, but the other materials added to the pickle balance it out. It specialises in the spicy area and has several health benefits. Indian Pickles and Chutneys have come a long way and love for Indian flavour is also praised by Americans.
Garlic Achaar 
Garlic pickles are the finest way to add spice to normal meals. Make sure you grate them as finely as possible. Garlic pickles have a unique flavour and delectable flavours that will refresh your taste senses every time you eat them. But did you know that this garlic pickle has a number of health benefits? This garlic pickle is one of the most admired Indian food pickles is high in antioxidants and might help you lose weight. It will also help you cleanse your body, boost your immunity, and strengthen your heart. It also contains probiotics, which aid digestion. It's delicious and can be found all throughout India. This Gujarati pickle is widely available Indian Pickles online USA.
Amle ka Aachar 
A sweet and tangy pickle made from the Indian gooseberry (amla). Vitamin C is abundant in gooseberries. They're great for hair, skin, and losing weight. Amla pickle is popular in north Indian families because of its enlivening taste and flavorful presence. Amla pickle has several hepatoprotective effects and protects the liver. If you're suffering from an ulcer, it's a fantastic therapy. Ulcers can be prevented by regularly consuming amla achar. It goes well with parathas and rotis and is a great healthy snack.
Nimbu ka Achaar
A classic favourite Homemade Indian Pickles are sour pickles with seasonings. For added flavour, add a slice of ginger. In Indian households, this is one of the most prevalent pickles. Who doesn't enjoy a tangy pickle? You can always get your hands on a sweet lemon pickle if you want a sour and tart flavour. With a strong flavour profile and a place in Indian cuisine, this pickle offers a lot of health benefits. The sweet lemon pickle is good for heart health and helps to keep it in good shape. It prevents stomach problems. It improves bone health and helps to control blood sugar levels due to its high mineral content.
Comments
comments