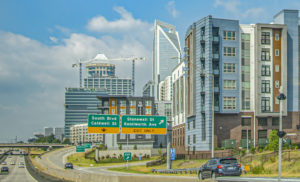 Apartment List's newest report, 
The Climate Impact of Suburbanization
, examines a concerning trend in the post-pandemic housing market. The flow of renters from urban to suburban regions is pushing more people into parts of the country where their carbon footprint expands significantly. Denser living is greener living but it's also more expensive, and the pandemic has encouraged millions of households to seek cheaper, larger living arrangements.
As a result, rents are rising faster in these suburban regions, meaning new residents are not only increasing their impact on the environment, but the cost advantages are also shrinking.
In 
this report
, data on rents and average household emissions are available for major metropolitan areas across the country. In Charlotte, NC specifically, they found:
In Charlotte's dense central counties, emissions are 0.6% lower than in suburban ones.

But in Charlotte's outer-ring suburban counties, the population has grown 3.6% since 2019 and rent prices have increased 31.7% since the start of the pandemic.
Comments
comments