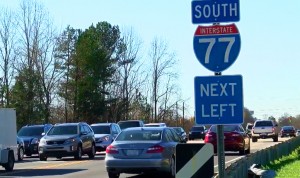 A recent report named the i77 toll lane project one of the top 6 worst road projects in America.
The report was created by U.S. PIRG – a consumer advocacy organizations that stands up to special interests groups when the health, safety, financial security, or democratic process of US citizens is threatened.
When talking about the i77 toll lane project, the report remarks;
"A project that state criteria says does not merit funding is moving forward because a private company is willing to contribute; taxpayers will still be on the hook for hundreds of millions of dollars."
One of the biggest problems with the contract is that the state will be forced to compensate the company for any other projects in the region that could potentially divert traffic from the road and thus drain toll revenue—including more free lanes or expanded transit options.
In spite of our petition (which gathered over 12,000 signatures) and virtually every speaker at the public hearing demanding a cancellation of the toll road project, the Charlotte City Council still voted 7-4 to back I-77 toll lanes.
It still seems unclear why North Carolina politicians have continually ignored the desires of its citizens.
Comments
comments