UPDATE 10/12/2018 9:30am:
Hurricane Michael has officially blown back out to sea after wreaking havoc in 4 southeastern states.
So far, there's been 1 storm-related death reported in North Carolina's Iredell County, after a tree fell on a car, 4 deaths in Florida, and 1 death in Georgia.
Over 500,000 people are without power in North Carolina, and millions more in South Carolina, Georgia, and Florida.
Hurricane Michael was sneaky powerful. A block from our office… pic.twitter.com/qhLSKebMxQ

— Scott Galloway (@SHGalloway) October 11, 2018
Category 4 Hurricane Michael is now going down in the record books as the most powerful storm to ever hit Florida's Panhandle;
"It's never happened before in 167 years of keeping records. There has never been a Category 4 storm to make landfall in the Panhandle." @alroker tracks when #HurricaneMichael will hit and how bad the storm's expected to be pic.twitter.com/u2qzGegn6t

— TODAY (@TODAYshow) October 10, 2018
UPDATE 10/11/2018 8:30am: 
After making landfall yesterday on the Florida panhandle as a Category 4 storm with 155+ mph wind gusts (the most powerful the US mainland has experienced in 25 years), Hurricane Michael quickly diminished from a Category 4, to a Category 1, to a Tropical Storm.
Michael is now blowing across the Carolinas, bringing with it damaging winds and flash flooding.
All CMS schools are now closed for the day and city officials are cautioning residents to stay off the roads and to work from home if at all possible.
The Charlotte region will feel the worst of the storm this morning between 9am-12pm, and will continue to see heavy rainfall for the rest of the day;
Please watch out for flooded roads and fallen trees if you are forced to drive today.
UPDATE 10/10/2018 8:30am: 
Hurricane Michael has just been upgraded to a category 4 storm as it barrels its way toward the Florida panhandle.
With current sustained winds of 145mph, Michael could become the strongest storm to hit Florida's panhandle in recorded history.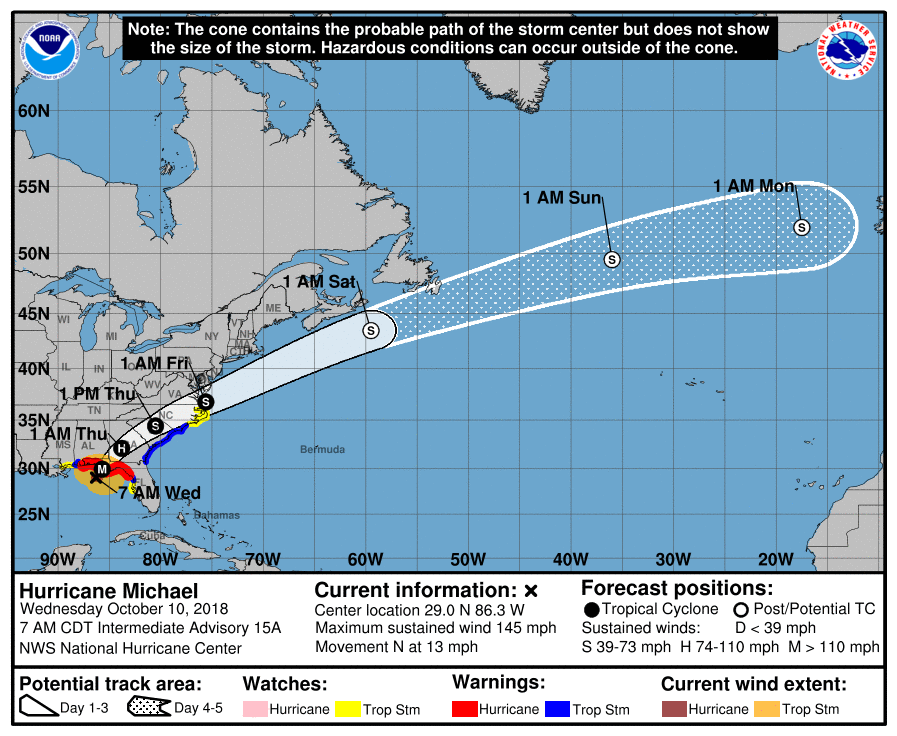 Michael will significantly diminish once it hits land, but the National Hurricane Center is now showing about a 50% chance of Tropical Storm Force winds reaching the Charlotte region;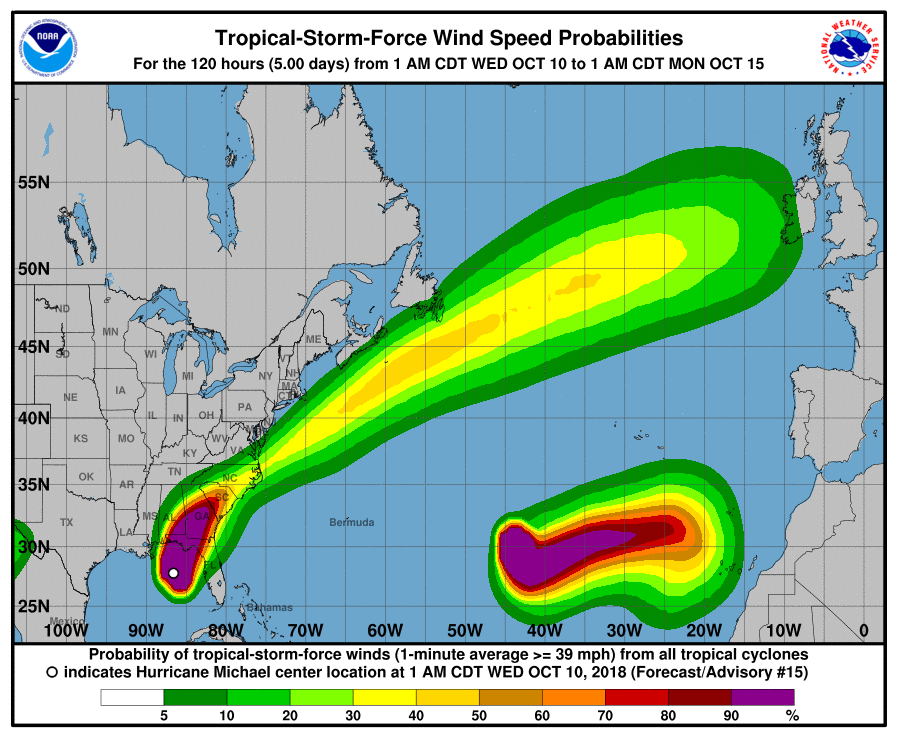 Venutsky's forecast is now predicting wind gusts upwards of 95mph hitting Charlotte on Thursday afternoon;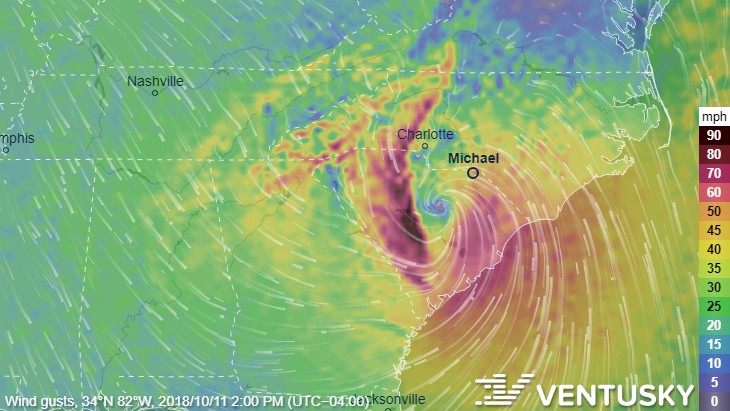 UPDATE 10/9/2018 10:30am:
NC Governor Roy Cooper just held an emergency briefing to inform residents about how Hurricane Michale might affect our state over the next few days.
"We need to brace ourselves for strong winds and rain…already bruised southeastern North Carolina could feel tropical storm force winds…";
Hurricane Michael is now expected to strengthen to a Category 3 Hurricane before making landfall on the Florida Panhandle early tomorrow morning;
Original article 10/8/2018 8:00am:
The newly developed storm in the gulf of Mexico has just changed from a depression into Tropical Storm Michael and is now on a arching path toward the Queen City.
According to the National Hurricane Center's most recent alert, "Michael is forecast to be a hurricane, and possibly a major hurricane, when it reaches the Northeastern Gulf Coast by mid-week, and storm surge and hurricane watches are now in effect for portions of the area."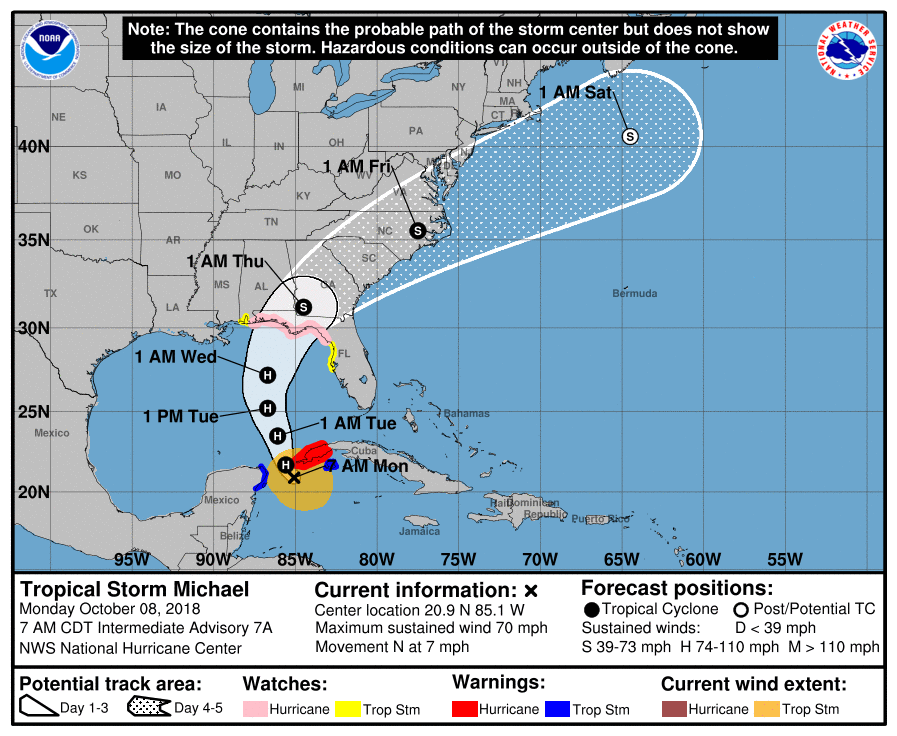 According to Ventusky, the storm will pass over the Charlotte area on Thursday morning between 8am-11am;
According to the Late Model Intensity Model, the storm will likely slow down after it hits the coast and will retain tropical storm force winds as it moves across the southern states;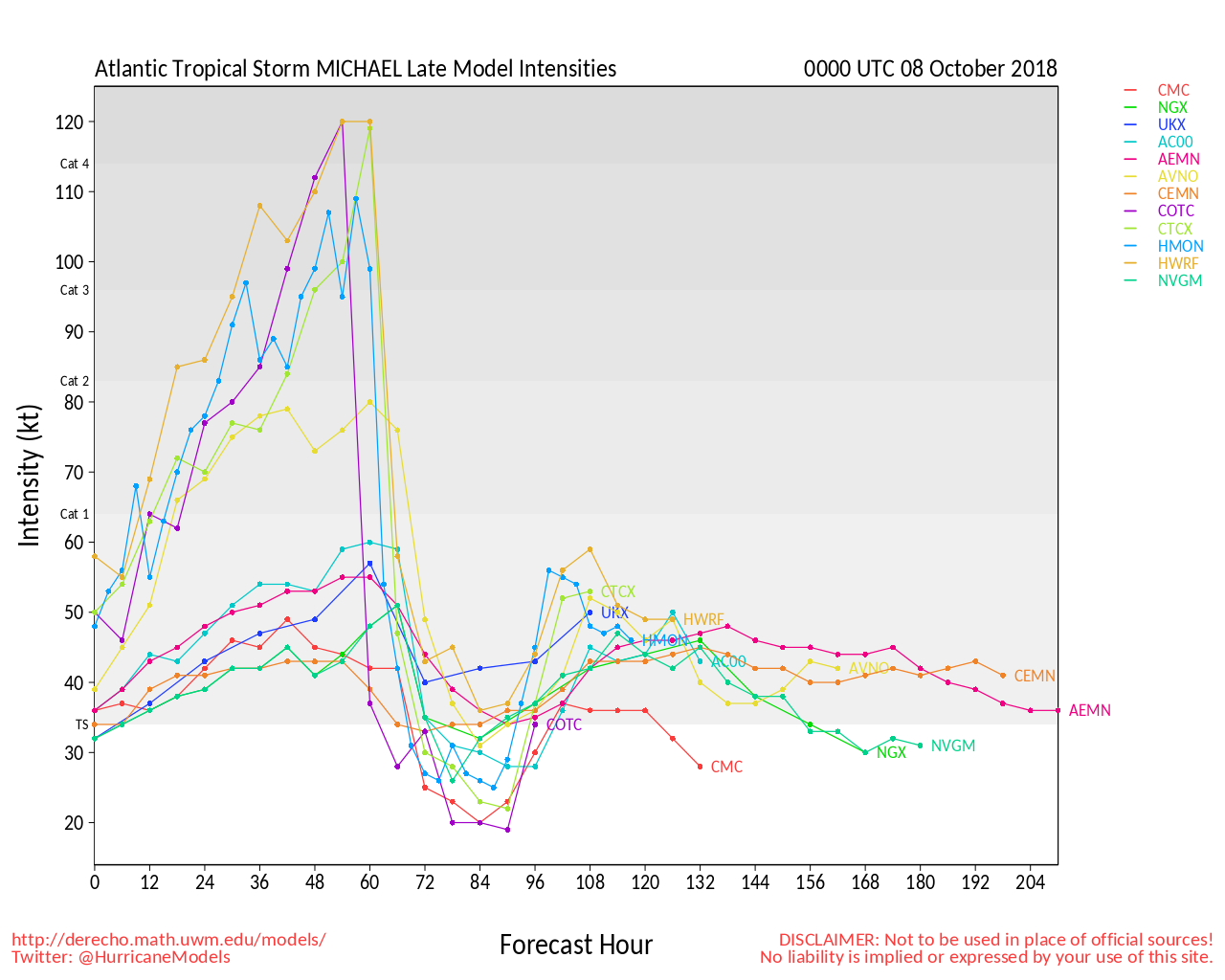 50 MPH winds and flash flooding around Charlotte will likely knock down trees, cause pockets of power outages, and make some roads impassable.
In case of a power outage, make sure to have the following emergency items stocked in your home;
Comments
comments