UPDATE 9/5/2019 8:00am:
At 800 AM EDT (1200 UTC), the eye of Hurricane Dorian was located directly off the coast of Charleston, moving toward the north-northeast near 8 mph (13 km/h). A turn toward the northeast and a faster forward speed is forecast tonight and tomorrow n Friday. The center of Dorian will continue to move close to the coast of South Carolina today, and then move over the coast of North Carolina tonight and Friday.
Maximum sustained winds are near 115 mph (185 km/h) with higher gusts. Dorian is a category 3 hurricane. Some fluctuations in intensity are expected this morning, followed by slow weakening. Dorian is expected to remain a hurricane through the weekend.
Hurricane-force winds extend outward up to 60 miles (95 km) from the center, and tropical-storm-force winds extend outward up to 195 miles (315 km).
Original Article: 
Hurricane Dorian has just begun its turn toward the north and along the East Coast. The latest forecast now shows the storm making it's first US landfall in North Carolina.
This morning at 11am, the National Hurricane Center released the following update:
"At 1100 AM EDT (1500 UTC), the eye of Hurricane Dorian was located near latitude 27.1 North, longitude 78.6 West. Dorian is moving toward the northwest near 2 mph (4 km/h), and a slightly faster motion toward the northwest or north-northwest is expected later today and tonight. A turn toward the north is forecast by Wednesday evening, followed by a turn toward the north-northeast Thursday morning. On this track, the core of extremely dangerous Hurricane Dorian will gradually move north of Grand Bahama Island through this evening. The hurricane will then move dangerously close to the Florida east coast late today through Wednesday evening, very near the Georgia and South Carolina coasts Wednesday night and Thursday, and near or over the North Carolina coast late Thursday and Thursday night."
Due to the Westward shifted forecast, "THE STORM SURGE WATCH HAS BEEN EXTENDED NORTHWARD TO CAPE LOOKOUT NORTH CAROLINA."
According to Ventusky.com, the eye-wall of the storm is shown making initial landfall near Wilmington, NC at around 5pm on Thursday evening;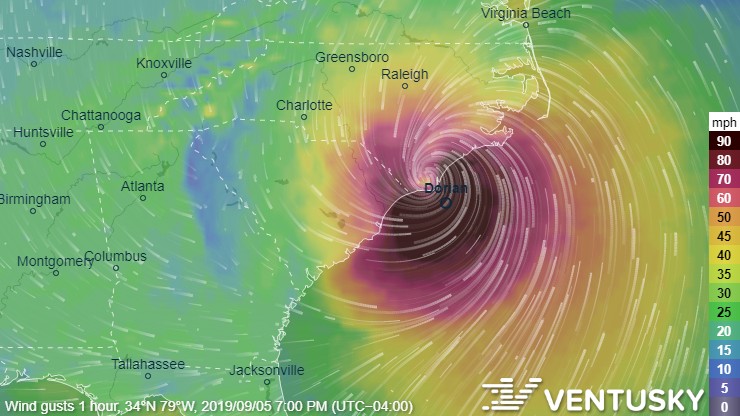 Several areas around Myrtle Beach and Wilmington are are now expected to see storm surges in excess of 9 feet within the next 3 days;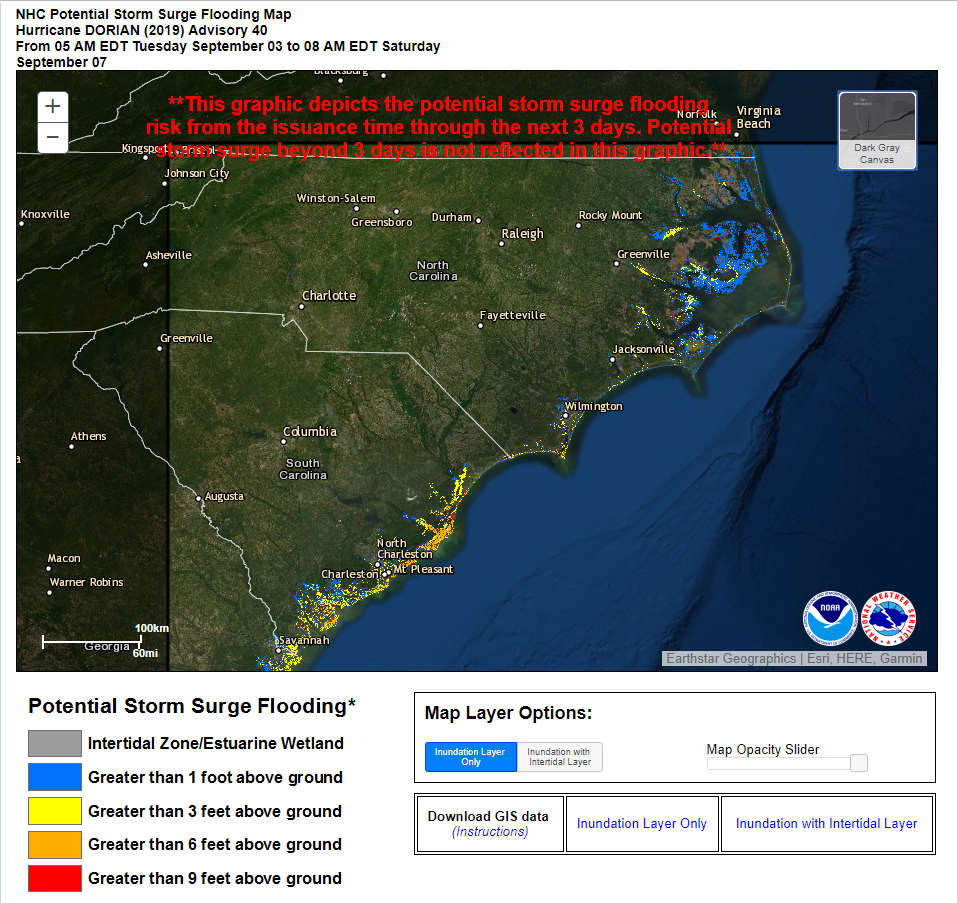 The official 2019 S.C. Hurricane Guide is available at scemd.org and the N.C. Hurricane Guide is available at readync.org.
Both guides recommend having the following emergency items stocked in your home (available via 2-day shipping on Amazon.com if your local store has already been cleaned out);
In addition, it's recommended that residents along the coast fill their bath tubs and washing machines with clean water in case of flooding.
Comments
comments