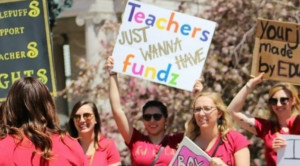 Over 10,000 teachers from across North Carolina are now expected to gather together in Raleigh on May 16th for the "March For Students and Rally For Respect".
At least 15 school districts have now officially announced they'll cancel classes due to the protest, including Charlotte-Mecklenburg Schools, Wake County Schools, Guilford County Schools, Mooresville Graded School District, Durham Public Schools, Nash-Rocky Mount Schools, Orange County Schools, Chapel Hill-Carrboro City Schools, Asheville City Schools, Iredell-Statesville Schools and Cabarrus County Schools.
If the districts hadn't decided to shut down, they would have had to scramble to find subs for the thousands of teachers expected to protest in Raleigh.
According to the North Carolina Association of Educators, the protest will be focused on asking our elected officials for:
Significant investment in per-pupil spending so our students have the resources to be successful.
A multi-year professional pay plan for educators, education support professionals, administrators and all other school personnel. This plan must include restoration of compensation for advanced degrees and longevity. The plan must also stop the flat-lining of experienced educator's pay.
Investing in the health and well-being of our students and making schools safer through increased school nurses, counselors, social workers and other support personnel and expansion of Medicaid to improve the health of our communities.
Fix our crumbling schools and large class sizes with a Statewide School Construction Bond.
Prioritize classrooms and not corporate board rooms.
CMS originally announced that they would cancel school on May 4th, to line up with the upcoming protests;
Dr. Clayton M. Wilcox, @CMSSupt, has designated May 16, the day of a statewide teacher rally planned in Raleigh, as an optional teacher workday. There will be no school for students.
Please read the full statement here: https://t.co/V3XMqQxfMO pic.twitter.com/aRYyyopD0J

— CMS (@CharMeckSchools) May 4, 2018
All CMS AP tests scheduled for the 16th will be rescheduled before May 25th;
UPDATE: AP tests now scheduled for May 16 will be administered before Fri., May 25 on make-up days offered by @CollegeBoard. Principals will work with families on rescheduling. Read the full list of adjustments for the May 16 Optional Teacher Workday here: https://t.co/wLTOcGcNBP pic.twitter.com/9vBtjZNgj1

— CMS (@CharMeckSchools) May 7, 2018
What do you think about the upcoming protest on May 16th?
Comments
comments