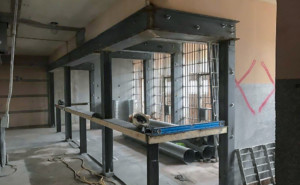 Do you have a friend who's been sentenced to prison? You might want to send them a letter but you may find it difficult to know what to write.
Few of us write personal letters these days – except, perhaps, to elderly relatives. We're used to communicating with friends through social media or maybe email. So sitting down to write a physical letter can feel awkward and perhaps strangely formal.
Here are some tips to help you with writing to a friend in prison.
Finding Your Friend's Contact Details, e.g. in Utah
Before you can write to your friend, you'll need to know their inmate ID number. This should be included on the envelope and at the top of your letter itself.
To find their inmate ID number, you can simply run an online search. You can do this by county, if you're not sure what institution they're in – for instance, you could search for prisoners in Utah with the same first name and last name as your friend.
If you know where your friend has been incarcerated, you can search that specific institution. For example, if they're in Davis County Jail, you can look them up in Davis' inmate roster.
Understanding the Rules About Sending Letters
As you might expect, there are strict rules about what you can and can't include in a letter to an inmate.
The rules vary from institution to institution. In general, you shouldn't include:
Any decorations (e.g. stickers) 

Any perfume on the letter or envelope

Any items with your letter, apart from a photo (check for size restrictions on the photo)

Anything sexually explicit – either in writing or as a photo or drawing

Anything related to a criminal offense

Anything racist or homophobic
The letter will be examined by prison officials before it's passed on to the inmate. Make sure you check the specific rules for the jail or prison where your friend is being held, to ensure you're sticking to those.
What to Say in Your Letter
There's no "right" or "wrong" about how to write a letter to an inmate. You can type the letter on a computer and print it, or you can handwrite it, whichever you prefer.
In your letter, you could:
Ask open-ended questions, like "How are things going?", "How are you spending your time?" or "Is there anything I can send for you?"

Sending money

is almost certain to be helpful.

Tell your friend about life outside prison. While you might fear this will make them miss being outside even more, most prisoners say that they really appreciated details of normal life outside.

Share news from mutual friends or family members – if possible, focus on positive news here. Perhaps a friend has a new job or a new baby, for instance.

Reminisce about happy memories from times you shared with your friend.

Write about a hobby or interest that you have in common.

Let them know how often you think you'll be able to be in touch. (E.g. "I'll try to write every month.") If you're only writing as a one-off, say so, as it can be very hard on prisoners to expect letters that never arrive.
Avoid saying anything unkind: your friend probably knows full well that they've hurt or let down people on the outside. Reassure them of your continued friendship, rather than berating them about what they've done wrong.
Be careful about any inside jokes that could be construed by guards as a coded message. It's probably best to keep your language simple and direct.
Writing to a friend in prison might take a little time – but it will mean a huge amount to your friend.
Comments
comments