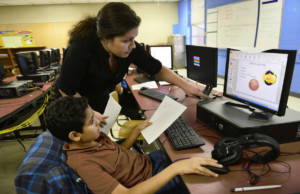 Modern kids are so fluent with technologies that it may seem they were born with a smartphone in their hands.  At a young age, it's natural that children want to play and perceive the Internet as the treasure box with games and entertaining web applications like Tik Tok or Youtube for kids. 
Unfortunately, there's not only fun on the Internet, as with the easy access to many resources, comes threats like infecting a computer with malware and cyberbullying and more "adult stuff" like identity theft, ransomware, or money fraud. Children can fall easy victims for villains due to the young age and absence of understanding of how cybercrime works.
While it's highly recommended to set up parental control limiting certain resources and monitor online activity and you definitely should take these measures, your kids are still exposed to online risks outside home and school. In addition to setting up your parental controls, it's worth researching VPN providers and investing in a VPN, especially if your child uses a device away from home. That is why it's your responsibility to teach them how to protect themselves in the web. Here's how you can do it:
Educate 
The sooner you start talking with your kids about cybersecurity, the better because this way your kids will be prepared and avoid the risks. Start with explaining the basics of the Internet, why they should not believe everyone they met on the internet. Here are the most important aspects to focus on:
What cybersecurity is and why it's important

Why people use passwords

How to share content safely 

Why it's not recommended to share personal information like physical address, phone numbers, and emails with people you do not know

What it's critical to make backups

Why malware is dangerous, how it works and how to avoid it.  
Make it simple 
Keep in mind that all the information should be adapted to the age. The younger is your kid, the more simplified explanations you need to choose. This way, it will be easier to grasp new terms and understand how everything is working. Turn the learning process into entertainment by using the "word of the day" techniques and make use of online materials like videos and simple games to make it easier. 
Start with yourself
Lead by example and increase your knowledge in the personal protection field by subscribing to cybersecurity news, read books and educational videos available for free to know more about the potential pitfalls and ways how to avoid them to later share your knowledge with your kids. Be on guard of cybersecurity in your family by timely updating OS, and its components to the latest version, download only licensed software from trusted providers and install the malware protection that would work as a scanner to detect and block viruses and firewall to filter the unwanted traffic. Also, always set strong passwords, and lock the devices that are not in use. Children observe their parents and learn from them, so when you will treat the security seriously, they will follow your example. 
Agree on the rules
Make sure to set the rules when it comes to cybersecurity like always asking for permission before using any new application, inform parents when they see something unusual like a pop-up in the game or misclicks that trigger a download, or suspicious messages they receive from strangers. 
Pro tip: To make these rules working, make sure to establish trust with your kid, and always praise the proper behavior, otherwise when children are afraid to be punished by doing something wrong, they will be trying to hide their wrong actions. 
Teaching your kids the basics of safe behavior on the Internet is one of the important steps in preparing for adult life. Luckily, today the number of learning resources adapted for children is increasing including educational programs, websites, and platforms, thus you have more chances to help them develop security awareness and protect from online threats.  
Comments
comments