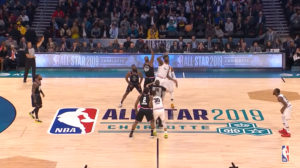 The NBA is fun, exciting and one of the most-watched sports. It is also lucrative for those who take an interest for the sake of wagering. The NBA is considered a money-making sport whether you are playing or watching it from the sidelines.
The sport is simple and so does wagering on it. The strategy you find online can only work as a guideline, in the field of betting everyone brings their formula, luck and strategy to win. In the following section are some guidelines that can help you win good returns.
The betting industry is a multi-billion-dollar industry and with legalisation, it is growing rapidly. To win you need to develop your strategy, if you are starting, trying and learning until you have a game plan should be your goal.
There are certain terminologies you need to understand while reading or placing bets on NBA games.
Favourite and underdog
In the NBA odds, it is the basic thing to learn or to know. The underdog will have positive signs meaning the chances of that team winning are bleak, this is why the return is higher. Similarly, there are favourites with a positive sign meaning the chances of winning this team are high so the return is low.
With a sign, you will notice a number as well, for example, +150 or -150. These are referred to as odds, in this example, if you bet $100 and a team with odds of +150 wins, you will receive $250 in total. Betting on favourite means, you need to place $150 to win $100.
You can start with as little as $5 and go as high as you want. It is recommended to place only 5% of your wallet and never more than that. Betting is quite addictive so you need to play responsibly.
Money line
It is the simplest bet in which you decide the winner of the game and place your bet as per the odds. Suppose a match between Lakers and Celtics, Celtics being favourite with a negative sign and Lakers underdogs with a positive sign, you only have to choose one team and place your bet. If that team wins regardless of margin, you win accordingly.
Point spread
This category is interesting, in this type of betting you bet on the margin, each team has a specified margin and if your bet exceeds or falls behind the margin, you lose the bet.
From a strategy point of view, you need to focus on these categories first. Once you have authority over simpler bets then you move on to complex ones.
Prop bets is an event-based. You place a bet on an event in the match like who is going to score more, what will be the team's score after the first quarter, etc. this calculation requires time and research and understanding of the team.

Checking the team's schedule can be beneficial in strategizing. Fatigue plays an important role, if any team has back-to-back matches and players are exhausted then you can take calculated risks.

Home advantage is another factor that you should never rule out. Big home underdogs in the NBA are very relevant and you must consider that while making your pick. 
Comments
comments