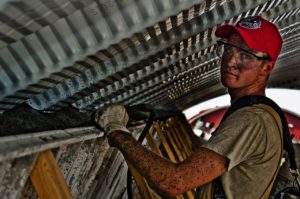 The construction industry is booming. The sector brings in trillions of dollars a year, 11.2 million people are employed by it, and it's one of the fastest-growing industries. With those statistics, it's not surprising that you want to become a contractor.
There are many types of contractors, and they're all crucial to the construction industry. Because of the increase in construction needs, and a shortage of workers, contractors are in high demand. 
The construction industry is expected to grow by at least 4% by 2029, so the demand for contractors is also bound to grow. Getting involved in the field now will put you in an excellent position to make a serious financial gain. 
So, if you live in North Carolina, here's how to become a contractor in just three easy steps. 
1. Decide What Kind Of Work You Want To Do
There are many different types of contractors. You can be a general contractor, a roofer, a plumber, an electrician, an HVAC specialist, or an excavator, and that's not even all of the options. 
Because there are so many options, your first step to starting your own business from scratch is deciding what type of contractor you want to be. There are a lot of factors to consider when making this decision, but for now, let's focus on skill and pay.
What skills do you already have? Can they be of use in any of the types of contracting mentioned? If you have an existing skill set that can be useful, it makes sense to go in that direction. 
How much money do you hope to make from your new profession? Some types of contractors make more than others, so if money is your primary focus you should check in to how much each type of contractor makes in North Carolina. 
Keep in mind that how much someone makes in this type of industry is usually dependant on how much experience they have and how many projects they're willing to take on. 
2. Determine Which Type Of License You Need
North Carolina requires different licensing and permits for different types of contracting work. For some, you may only need to attend a training course and pass an exam. For others, like electrical work, you may have to seek continuing education.
When you decide which type of contractor you want to be, you can check into the requirements for your specific license. 
A few common types of licenses people acquire are general contractor's licenses, plumbing licenses, and electrical licenses.  
North Carolina laws and regulations require that anyone performing contracting work worth $30,000 or more have a general contractor's license.
A plumbing license is required in North Carolina before bidding on or performing professional plumbing work.
With an electrical license, you can bid on, or contract any size of electrical work, but you may need continuing education. 
Check into the laws and regulations surrounding the type of contractor work you've decided on to ensure you meet the requirements before beginning work.
3. Take Your Prep Course And Contractor's Exam
The final step to becoming a contractor is to prepare for your licensing exam and then take the test. Which exam you take will depend on what kind of contractor you're going to be. All of the exams are lengthy and cover the knowledge you need to have to do your new job properly.
You can sign up to take an exam prep class now to ensure you're ready when you take your test. The class will cover everything you need to know to pass the test in North Carolina and give you a head start in your new profession.
The length of the course can vary depending on which exam it is you'll be taking, but for reference, the general contractor's course takes less than ten hours to complete. That's a small amount of time when you consider that you're preparing for a venture that can prove lucrative for years to come.  
Once you complete your exam prep, you can check in to the next available day to take your exam. When you pass the exam, you will officially be a licensed contractor.
You can become a licensed North Carolina-based contractor with ease by completing these three easy steps. 
Comments
comments