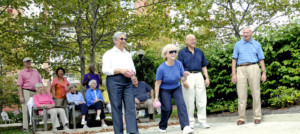 Everyone deserves to find happiness, and age should never be a barrier to this. But when it comes to dating in your senior years, there can be some added challenges to navigate, that perhaps weren't the case in your younger years. 
Whether you are newly bereaved or have been separated for some time, dating can allow you to share your life with someone special, or simply find some companionship. Remember, that when it comes to dating in your later years, everyone is in the same boat, meaning it's normal to feel a little apprehensive. 
So that you can have the best experience, here are our top tips on dating in your senior years to help you get back out there. 
Thinking About Your Requirements
Before you go back into the world of dating, it's always helpful to think about what you are looking to get out of the process. 
Some people are going to want a serious relationship, and others something a little more casual. It's also okay to take your time to find your feet, but just know it may be easier to find what you are looking for if you're specific about what you want, along with what you don't want. 
To get started, a great way to dip your toe into the dating world is to attend some speed dating events, which can take the edge off any nerves. It can also help you decide on the type of relationship, as well as the type of partner you are looking to find.
If you are set on what you want, i.e. a long term relationship or even marriage, then it's always best to be upfront about this at the start. 
Finding Potential Dating Matches In The Modern Age
Finding a date works a little differently than it used to, seen as dates are often arranged online these days. From reconnecting with old friends on social media platforms to joining a dating website, finding love is a lot easier if you have digital skills. There are many specific dating sites for over 50 year olds.
If you do join a dating website, you'll need to complete a profile and answer a compatibility quiz. Although, this will help you to find better matches versus random dates with strangers. For those who are ultra tech savvy, dating apps require just a few swipes to match with potential dates.
Never fear if you aren't up to speed with technology, as in-person dating events can also be found locally. There's even the option of joining a dating agency if you'd like a person, rather than a computer to find you suitable matches. 
Navigating Confidence Issues 
For some, it may be years, if not decades since they last went on a date. Others may have low confidence due to their appearance, or even issues in a past relationship. 
Here's the thing. Every single person has their hangups, and age is no exception here. Instead, the thing to focus on is your new beginning. As we said at the start, dating in your senior years can feel daunting for everyone, so it's key to focus on what you do bring to the table, along with the positive aspects of dating. 
It may also take a few dates to become comfortable in your own skin, and this is perfectly normal. When you start to find people with common interests, you will find the more you engage, the easier the whole process will become. 
For anyone who is incredibly nervous, then group events, or activity based dates can help to break the ice. It's even possible to book over 60s holidays for solo travellers, which can put the focus more on getting to know like-minded people, rather than just dating itself. 
Keeping Safe When Meeting Someone For The First Time 
Finally, anyone who wants to start dating needs to be wary of their personal safety, both online and when meeting in person.
Be careful not to reveal personal information about yourself online, including your address, date of birth or banking information. You should also never send money to someone, regardless of what they may tell you. 
If meeting in person, then always do so in a public place, and let others know where you are going. Meeting as part of a group, such as a double date can help you feel safe until you get to know the person well enough to meet them alone. 
To Sum Up
Dating as a senior is really about ensuring the remaining years of your life are happy ones. 
Compared with feeling alone, meeting new people, especially if you are set to gain friends or even a new relationship can transform your life. Dating is the best way to make this happen, especially if you're ready to take things to the next step. 
We wish you every success with this exciting new chapter of your life! 
Comments
comments