Whether you've just created your startup and are looking for ways to find and entice first customers, or you own a scaling product whose growth seems to have stalled at some point — in this article you'll find some proven ways of unlocking your growth & drive in thousands of prospects. You'll learn how to combine powerful prospecting strategies with marketing tips and yield great results. 
1. Reinforce your content strategy 
In this day and age, it's essential that you work on your own skills first, trying to accomplish as many personal and business goals, and then distill what you've learned into short-form content. It's great if you can do this effortlessly – it's the correct way to do it – when it's effortless. When you focus on your own growth, you create content as a result of your transformations. You don't force content to come out of you, it happens on its own. 
The second important thing to pay attention to is shifting your focus to not only short-form content (short articles, blog posts), but also improve your visuals. Visuals can be a great way to support your writing. Video content is also amazing and definitely worth trying. Videos are a great way to build trust with your audience – you have the chance to speak and transmit your ideas. Videos help to establish more trusting relationships, that will help channel prospects to your website or social media. 
It's also important that you don't try to teach people — you simply suggest your own vision and let them decide if there is anything for them in your content.
The takeaway:
Work on your own skills first, set bigger goals, accomplish them and share what you've learned, as opposite to trying to force the content out of you 

Make your visuals support your wording 

Try

live webinars

or video blogging. This is an exquisite way to increase your brand exposure because people tend to lean toward live communication, person-to-person. 

Try video marketing – how-to videos, and tutorials. 94% of marketers

told

that video helped their audience better understand their product or service. You don't need much to start out: begin using the equipment and tools you can easily set up: iPhone, sound-proof room, video scripts. 
It's very unlikely that content will disappear from the marketing stage. It's still one of the most amazing ways to drive in potential customers. Only by sharing your own insights, as a result of your constant self-improvement, you can draw that very audience that your business will benefit from right to your LinkedIn profile, website or Youtube channel.
2. Delegate all the prospecting routine to the tools
B2B customers are acquired, mostly, through marketing and prospecting. The latter is the process of reaching out to those who you consider is your high-quality prospects. By high-quality we mean those who are most likely to get drawn to your product or service. 
When it comes to B2B prospecting, it's usually thought of Email and LinkedIn as two channels that are directly associated with business, relationships, and selling. 
It's probably because LinkedIn has established this reputation as a go-to platform for social selling. There you can stumble upon that very decision-maker, share business insights, and reach out to potential customers. You'll have more chances of being welcomed on LinkedIn with your business offer, than on Facebook, Instagram or Twitter.
Emails are classic ways to reach out to people. These two channels combined can produce great results. However, it's better to know the pitfalls to avoid struggling with your prospecting message sequences, and not getting lost among thousands of potential customers. 
So, how to organise your work?
Here is where routine automation tools come in handy. A routine automation tool is a special software that combines CRM features (customer relationship management) and prospecting automation. 
Such tools allow you to set up multiple message sequences (for LinkedIn and Email) and let them be sent on autopilot in the timeframe that you've set up. 
What does this all mean?
It means that today you can completely eliminate manual work, like searching for prospects, sending messages, tracking the progress of prospecting, managing prospects and conversations. Everything, from the initial step (finding prospects) to sending messages and tracking results, can be done for you by software.
Let me show you how it's done in the tool. Let's take Closely, for example. Closely is a lead engagement and routine automation tool that has all the mentioned features in it (B2B lead database). Setting up automated prospecting campaigns, and tracking the progress of campaigns — all can be done here. 
What do I do?
First, I define my audience on LinkedIn (for example, CMOs in the US). I go on LinkedIn or Sales Navigator and filter out possible connections.
I'm a user of Closely, that's why there is an extension running in my LinkedIn (you can see the purple button – it's Closely Surfer). When I click at it, I can download the result of my search in a CSV file. Let's do this.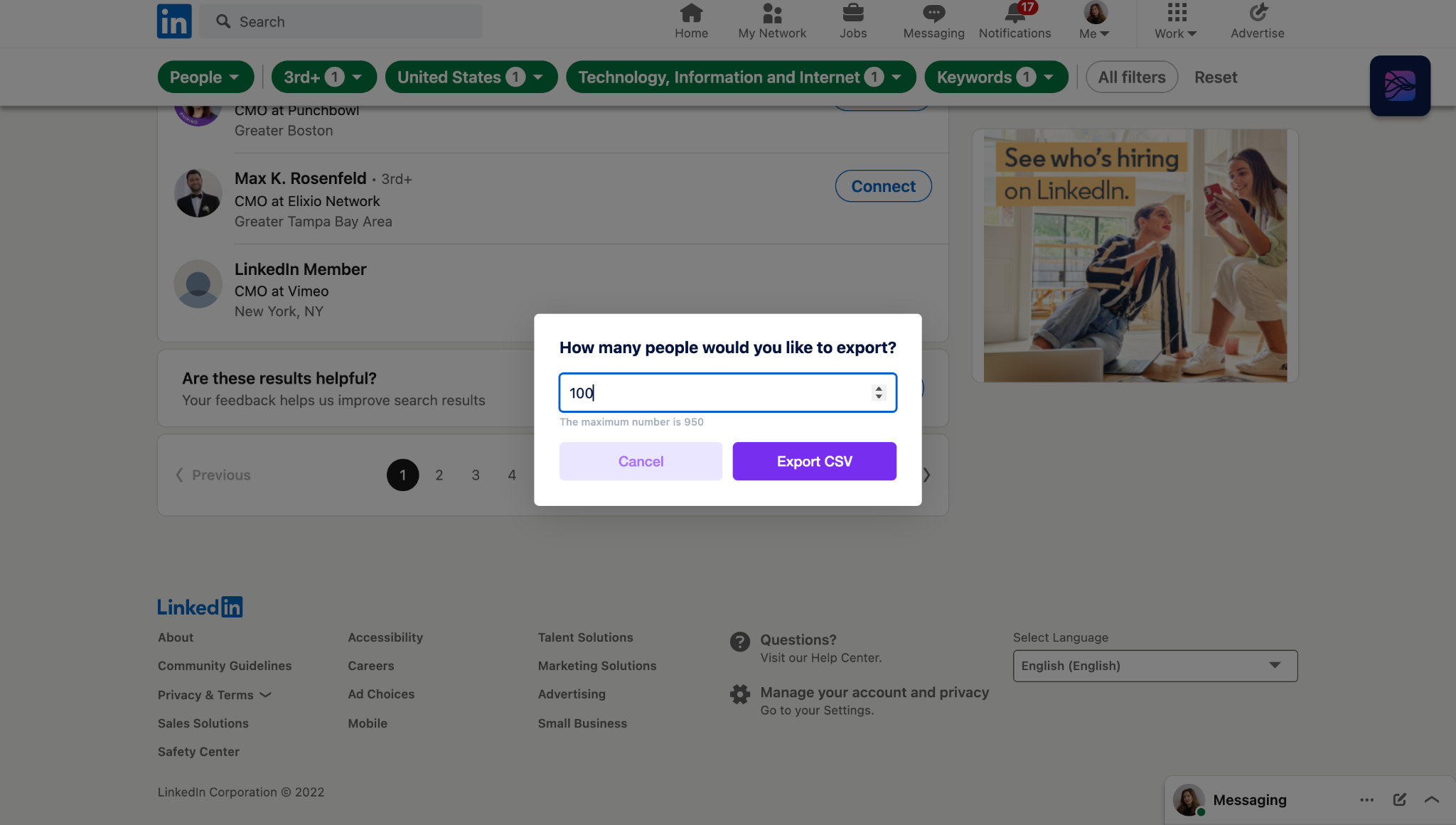 2. I define how many people should be exported and click "Export CSV".
When the file is saved on my computer, I go to closelyhq.com, log in to my account and go to Campaigns > Create New Campaign.
3. Here I decide which type of a campaign I want to create. Cold prospecting means I'll have to request new people to join my network. That's why I select "Connection request + follow-up messages". 
Then I decide on the audience for my future campaign. I can simply upload the file I've acquired with the help of Closely Surfer.
So I click on browse files, select the one that I need in downloads on my computer and proceed to the campaign creation.
4. In the next step I can write my connection request message (that's usually sent to LinkedIn members requesting them to connect) and add any number of follow-up messages. In follow-ups I can add content, ask whether they want to learn more about the product or service I sell, etc.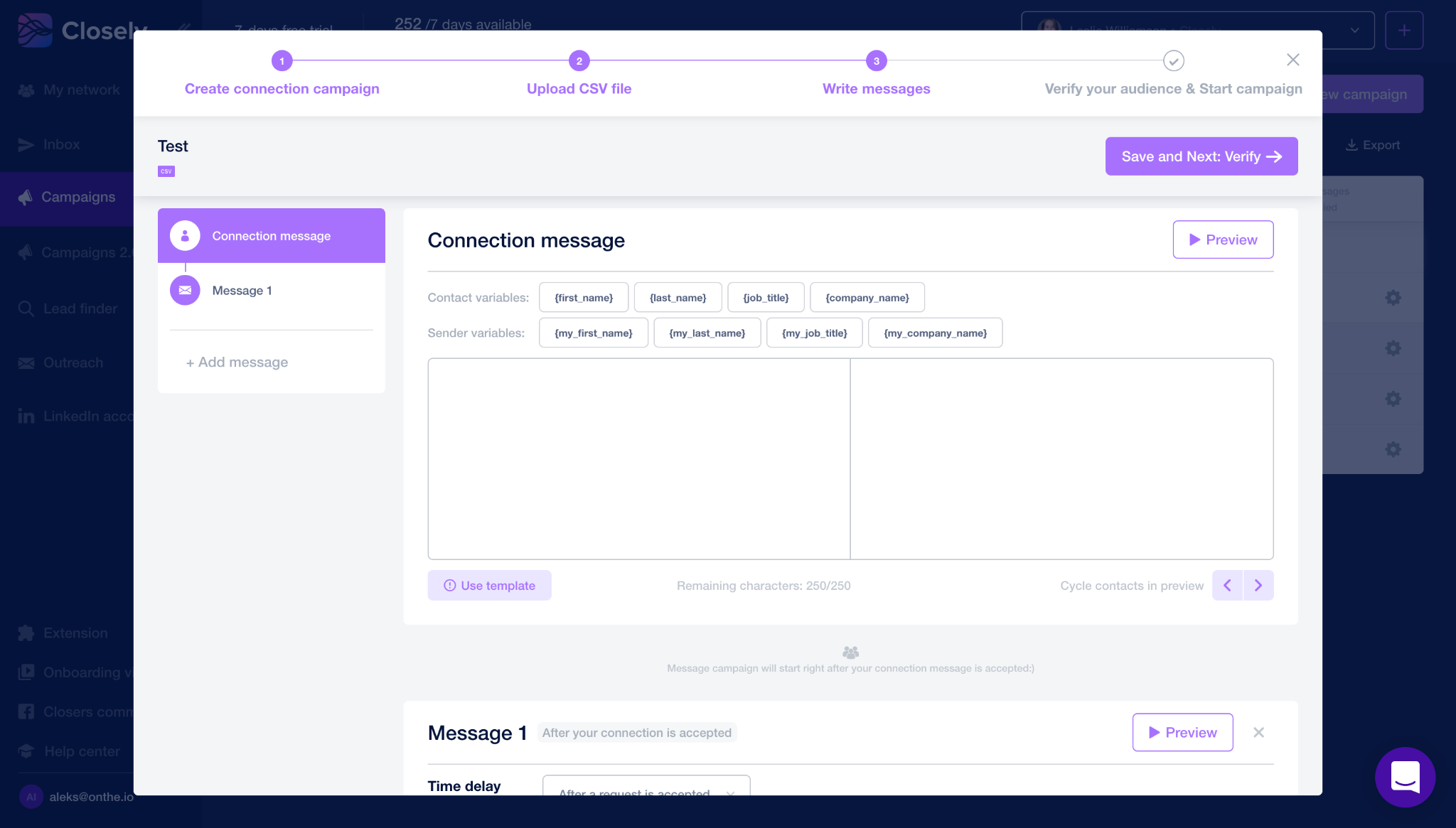 5. Then I start this campaign. It will be running on autopilot since this moment. I can check in further to see how it's doing.
There is an option to run multiple campaigns at a time. 
Here is how it's done. This way, you can focus on actually writing good messages or communicating with prospects in Inbox, instead of doing repetitive tasks that can be done by a tool.
Such tools also help with keeping your Inbox in order. Instead of having to deal with numerous messages on LinkedIn and creating tables, you can simply manage conversations in your advanced Inbox in your routine automation tool.
It's much easier to sell when you have all your contacts and conversations, gathered in one place in order. Use tags and notes to help you navigate through conversations and access needed information in a matter of seconds.
Routine automation tools are there to ease your work significantly and rid you of all the manual tasks that eat up your time. 
The same works for email prospecting. Consider snov.io to automate your email outreach. 
Takeaway:
All the routine work of B2B salespeople can be now delegated to a tool. Routine automation tools are special software which combines CRM and automation features. Such a tool can find prospects on LinkedIn or find emails for you and then automate the whole process of prospecting: from sending messages to monitoring the progress). Make use of such tools to save a wealth of your time and money.
Conclusion
There are some ways to gear up your B2B business and drive in prospects. Usually, B2B prospects are acquired through email and LinkedIn, through prospecting (sending messages) or marketing. In this article, we've highlighted important things to pay attention to that will let you build strong content marketing, and also some very easy ways to turn your prospecting into a fully automated and joyful process. The truth is, prospects can be generated on autopilot. Some very easy tools can completely transform your sales game. We've listed some of those tools. They're a good asset for B2B salespeople. 
Comments
comments