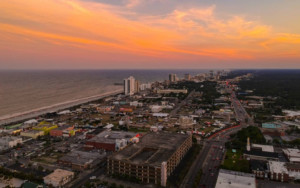 Atlantic City, located on the east coast of the United States in New Jersey, is a well-known tourist destination known for its vibrant nightlife, world-class casinos, and iconic Boardwalk. It has been a popular vacation spot for tourists from all over the country, including residents of Charlotte, North Carolina.
The purpose of this discussion is to explore the various reasons why Atlantic City attracts people from Charlotte to visit, including its attractions and entertainment options, accessibility from Charlotte, and promotional efforts by Atlantic City to attract visitors from this particular region.
Overview of Atlantic City
Atlantic City is situated on the eastern coast of the United States, specifically in New Jersey. It is located approximately 60 miles southeast of Philadelphia and about 125 miles south of New York City. Its coastal location provides access to the Atlantic Ocean, which offers opportunities for beach activities, water sports, and scenic views. Additionally, Atlantic City is well-connected to major transportation hubs, with several highways and airports in close proximity, making it easily accessible to tourists from various locations.
The city has a rich history as a prominent tourist destination. It was initially developed as a resort town in the late 19th century, known for its clean beaches and refreshing ocean breezes. In the mid-20th century, it emerged as a bustling tourism and entertainment hub, attracting visitors with its world-class casinos, live entertainment, and vibrant nightlife. Over the years, Atlantic City has continued to evolve, adapting to changing tourism trends and maintaining its status as a popular vacation spot for visitors from across the United States.
Atlantic City offers a wide array of attractions and entertainment options that cater to tourists. Its iconic Boardwalk is a major draw, stretching along the beach and lined with hotels, casinos, shops, and restaurants. The city is renowned for its casinos, offering a variety of gaming options such as slot machines, table games, and poker rooms. In addition, Atlantic City hosts live performances, concerts, and shows featuring renowned entertainers, as well as offering a range of recreational activities such as beach sports, fishing, and water sports.
In Atlantic City, there's a diverse range of accommodations and amenities to suit the needs of tourists. The city boasts a wide range of hotels, resorts, motels, and vacation rentals, catering to different budgets and preferences. These accommodations often feature amenities such as restaurants, bars, spas, swimming pools, and fitness centers, providing a comfortable and convenient stay for visitors.
The unique cultural and social atmosphere of the city contributes to its appeal. It has a diverse population with a rich history of cultural influences, including African American, Italian, and Irish heritage. This cultural diversity is reflected in its cuisine, arts, music, and events, offering tourists a unique cultural experience. The city also hosts various festivals, parades, and events that showcase its local culture and traditions, adding to its vibrant social scene.
Attractions for Visitors from Charlotte
Atlantic City offers a diverse range of attractions that may be of particular interest to visitors from Charlotte or other locations. Let's talk about some key attractions that can entice visitors from Charlotte to visit Atlantic City:
Beaches and Boardwalk
Atlantic City's pristine beaches and iconic boardwalk are a major draw for visitors from Charlotte. The city boasts miles of sandy beaches that offer opportunities for sunbathing, swimming, surfing, and water sports. The historic boardwalk, lined with shops, eateries, and entertainment options, is a vibrant hub of activity and a must-visit destination for those seeking a quintessential Atlantic City experience.
Historic Sites and Museums
History buffs from Charlotte will appreciate the numerous historic sites and museums in Atlantic City. From the Absecon Lighthouse, the tallest lighthouse in New Jersey, to the Atlantic City Historical Museum, which showcases the city's rich past, there are plenty of cultural and educational attractions to explore. Visitors can also learn about Atlantic City's role in popular culture and entertainment history at the Atlantic City Experience, a museum dedicated to the city's iconic boardwalk and its influence on American popular culture.
Shopping and Dining
Atlantic City is a haven for shoppers and foodies alike. Visitors from Charlotte can indulge in retail therapy at the many high-end shops, outlets, and boutiques that dot the city. From designer brands to unique souvenirs, there's something for everyone. Food enthusiasts can savor a wide range of culinary delights, from gourmet restaurants to casual eateries, offering diverse cuisines from around the world. The city is also known for its vibrant nightlife, with numerous bars, lounges, and clubs offering entertainment options for every taste.
With its diverse range of attractions, Atlantic City offers a compelling destination for visitors from Charlotte to explore and enjoy beyond its famous casino resorts. From beaches and boardwalk to historic sites, shopping, dining, outdoor recreation, and events, there's something for everyone to experience and enjoy in this vibrant coastal city.
Casino Resorts
Atlantic City is renowned for its casino resorts, which offer a thrilling and vibrant gaming experience to visitors from all over the world. These casino resorts are a major draw for tourists, including those from Charlotte, seeking excitement and entertainment. If you're not yet one of the lucky ones who can visit, this current list of best online casinos should help you scratch your gaming itch.
The city boasts a wide range of world-class casinos that cater to different preferences and interests. These casinos feature state-of-the-art gaming facilities, elegant décor, and a lively atmosphere that create an unforgettable experience for visitors. Some of the iconic casino resorts in Atlantic City include Borgata Hotel Casino & Spa, Caesars Atlantic City, Tropicana Atlantic City, and Hard Rock Hotel & Casino, among others. These establishments offer a variety of gaming options, ranging from classic table games like blackjack, roulette, and poker, to an extensive selection of slot machines and sports betting opportunities.

Visitors can indulge in a wide array of gaming options and amenities offered by the casino resorts. The casinos provide a diverse range of gaming choices, catering to both novice and experienced gamblers. Along with traditional casino games, many resorts also offer innovative and unique gaming experiences, such as virtual reality gaming, themed slot machines, and interactive gaming tables. The casino resorts also provide amenities like luxury spas, fitness centers, pools, and shopping centers, offering a well-rounded experience beyond just gaming.
Conclusion
In conclusion, Atlantic City offers a unique and exciting destination for visitors from Charlotte. With its convenient location, diverse attractions, casino resorts, transportation options, and special promotions and packages, Atlantic City provides a memorable experience for travelers seeking an unforgettable getaway. Its rich history, iconic boardwalk, world-class casinos, and vibrant nightlife make it a must-visit destination.
The accessibility of Atlantic City from Charlotte via various transportation options, such as flights, car rentals, or bus services, makes it easy to travel to and explore. The range of attractions, including beautiful beaches, thrilling casinos, shopping, dining, and entertainment options, caters to different interests and preferences. The availability of casino resorts with luxurious accommodations, gaming facilities, and entertainment options further enhances the appeal of Atlantic City.
Moreover, the special promotions and packages offered by hotels, casinos, and other establishments in Atlantic City provide added value and savings for visitors. These deals make Atlantic City a cost-effective destination, offering opportunities to enjoy the city's offerings to the fullest.
In summary, Atlantic City has a lot to offer to attract visitors from Charlotte, providing a unique and diverse experience. With its convenient location, diverse attractions, transportation options, casino resorts, and special promotions and packages, Atlantic City is a destination worth considering for an exciting and memorable trip.
Comments
comments