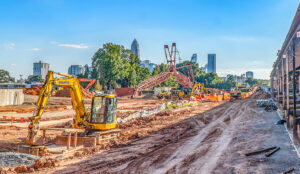 The newest study published by CommercialCafe analyzes how much vacant land is available in 20 of the most populous urban centers in the U.S while also highlighting the construction activity in each area.
For this, our team estimated undeveloped land sizes using the most recent data made available by Property Shark and online government records, and identified local initiatives maximizing land use from CommercialEdge data.
Here are some of the key takeaways:
Charlotte had the second-least amount of vacant land 

among the top 20 most populous U.S. cities: The North Carolina city – ranked 19th – had a total of 512 acres of undeveloped tracts accounting for 84 parcels of undeveloped land.

Here, the average parcel size of 6.09 acres, highest among the top 20.

In contrast, Dallas leads the list with a whopping 90,739 acres across more than 30,000 parcels.

At a regional level, 

cities across the South and Southwest boast tens of thousands of acres of undeveloped lots each.
Among the 20 cities, there are 516,980 acres of land currently still awaiting development – with the average lot size resting at roughly 1.22 acres.
Comments
comments