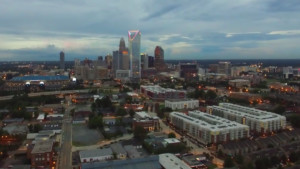 When renting, it's only natural you would want to get as much space for as little money as possible. But should you get your hopes up? It depends where you live. In a recent study by RentCafe, 100 of the most populous U.S. cities were analyzed to find out how much space a median income can get without a person becoming rent-burdened.
Here are the highlights from the report for the state of North Carolina:
30% of a median wage can get you 750 to almost 900 square feet of space in North Carolina's largest cities. That's about the size of a one-bedroom apartment.
Households living on a typical income can afford to rent the most space in Raleigh, 893 square feet, whereas in Winston-Salem they'd get the least space for their money, 750 square feet. In Charlotte or Greensboro you could upgrade to an apartment with more than 800 square feet, while in Durham 30% of a typical wage will be enough for only 777 square feet.
None of the North Carolina cities we studied offer above-average-sized places for those who live on a regular income and don't want to break the bank. City averages here circle around 900 square feet, which goes to show how much more than 30% of your wage you'd need to spend just to get an average apartment in the city with a regular income.
If you were to switch states, you could afford above-average apartments even on a median income. In nearby Virginia, for example, in Virginia Beach and Arlington you could live comfortably in 900 or 1,000 square-foot apartments and spend no more than 30% of your monthly salary on rent.
Looking at the other end of the spectrum, you could afford only 621 square feet in Atlanta, GA and even less in Washington, D.C., 465 square feet, if you were to limit your renting costs to 30% of a regular monthly wage.
If you'd like to see how North Carolina is doing in comparison with other states, you can check out the apartment-size calculator here.
Comments
comments