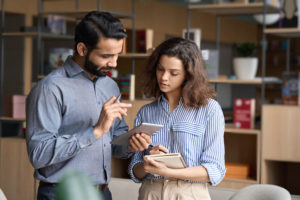 In this world of ever-changing and rapidly growing trends, one needs adaptive and progressive employees to keep the company growing. Thus, it is essential to build a team that believes in constant learning. If you are still second-guessing as to why such a team is essential for the company, well, then you are at the right place. In this article let's dig a little deeper into what exactly upskilling is? What are the merits of upskilling your employees to the organization and how you can upskill them? So, let's get started- 
What is upskilling? 
Now, if you ask any employer, there will always be a need for a new set of skills that will be required for the growth of the company. In this situation, the owner can either hire new people or simply, train the ones already working with the company. The latter gives rise to something known as upskilling. When a company organizes training programs for employees, to enhance their initial skill sets, then that is known as Upskilling. It benefits the company in numerous ways that include both financial gains and other non economical gains. Here's how it will benefit your company- 
How does Upskilling your employee benefit your organization?
Now, apart from all the economical bonuses, that it adds to the company, conducting training programs for employees and helping them upskill can bring in a lot of benefits in the long run-
A High Rate of Employee retention: Often, people quit their jobs, for the sole reason of finding new opportunities that provide them with a scope for growth and advancement. So, if as the owner of the company, you provide training programs for employees then, there are high chances that your employees will plan on working with you for the long term. Studies have also shown that when training programs for employees are provided, they are less likely to be nonmotivated. Training programs for employees help them in developing a sense of belonging for the company that in turn retains the employee for a longer duration of time. 

Improves productivity of the employees: See, engaging in anything new, gives you the adrenaline rush that challenges your brain. This way, you enhance your concentration and focus. So, the entire training program for employees helps in enhancing their productivity. And enhanced productivity increases the intensity and amount of work that an employee does. So, the numbers of the company are sure to improve after training programs of employees. 

Builds confidence in employees and teams: A lot of employees in a survey confirmed that post the upskilling program in the firm, they were able to build confidence and be more comfortable with the work culture of the organization. Building confident teams will help in a better quality of work. The employees can also speak up more and present ideas that are new and innovative. This will also help in building team spirit. 

Helps employees master their current role: the benefit of training programs for employees is seen a lot quicker in fresher candidates as they through these training programs for employees learn a lot of things and moreover master their current role and also seek opportunities for career advancements in the near future. 

Makes them develop soft skills: Now, soft skills form an integral part of a person's personality. They could be great at what they do, however, if they refuse to learn new things and mould according to the trends, then their knowledge will totally go in vain. Thus, it is essential to keep learning new things and developing your skills according to the current techno-savvy world. With continuous training, employees will develop the right soft skills that are needed for the job task that they are associated with. 

Prepares future position holders: Leadership or responsibility and accountability are not something that just comes to you overnight, you have to work for it and learn it your way. Thus, by conducting training programs for employees, employers can actually prepare the future employees of the organization.

Helps employees interact with each other: If an employee develops a sense of belonging and interacts with other employees, there will be an exchange of dialogue as well as ideas. This could help employees work better and also help the organization function in a more sustainable and harmonious way. 
How can you upskill your employees?    
Now, that you know all the benefits of upskilling your employees and how they can benefit your company as a hole, it is time to conduct a training program for your employees. If you are wondering where you can arrange one from, well then you are at the right place. Simplilearn is bringing you its corporate training program that will fit perfectly for your organization. This program is conducted virtually through a live boot camp. And t is conducted by industry experts. So, if you have been meaning to add a certain skill to your employees, then this is the right time to make a move. This program will be a great experience for the organization as well as the employees. 
You can simply visit the website to explore all the available training and then choose for your organization. It's that easy. Further, you can then book a session on the website as well.   
So, what are you waiting for? Check out the corporate training program on Simplilearn's website today. This could be a great opportunity to bring close your employees and create a family-like bond with them. This will help the organization grow in terms of relations and also profit numbers. You can choose the type of training that you want for your organization or company from the website. You can choose from all the training that is available on the website. So, do visit the Simplilearn website to know more. So, see you on the other side of the page.
Comments
comments