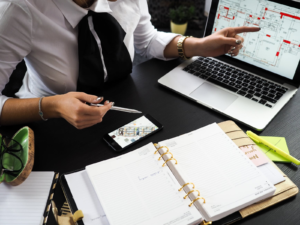 Used effectively, content marketing is a powerful tool that helps businesses grow. Every business needs great content. It helps highlight their brand and business and gives customers a reason to check them out. In today's modern world, people use the Internet to access information about businesses, brands, services, and products of interest before they visit them in-person. Many people shop online all of the time and never make it into a business storefront. This makes it vital for business owners to provide meaningful online content that draws in customers and brings them back again and again. 
Your words matter, especially when it is time to leave a lasting impression on a customer. Customers almost expect that a business has an online presence these days. Give them what they want and do it better than the rest with the help of a great digital marketing firm like ScottKeeverSEO.com.
Content is King in 2020 & Beyond
Bill Gates said 'content is king' more than 10 years ago. Some people think that it is overused and outdated while others simply do not understand the value at all. The best marketers understand that the sentiment applies today more than ever. Many people do not see a business or its products in person, but instead online via a website, blog, social media, and other forums. Each word chosen for your online content should be precisely chosen. The goal is to entice customers to shop with your brand rather than the rest. You want them to share your content and bring up your brand and products to friends during a conversation. It is vital that customers who see your business online love what they see and what they read. Content marketing, when done correctly, ensures that is exactly what happens with all of your marketing strategies.
Content Marketing Costs Less
When you hire a digital marketing firm to begin the process of making your content marketable, you'll enjoy savings of as much as 70% over other marketing tactics, yet it delivers 3x the leads. Who cannot appreciate the chance to gain more customers as they spend less money in the process? That is the exact results you get when content marketing is used. Great content builds your audience and customer base as it promotes the products and services you offer. Businesses that add a blog to their website enjoy 43% more SEO-indexed pages than businesses without the blog. They also enjoy 6x higher conversion rates, the ultimate goal of any marketing strategy put into effect for your brand.
Working for Your Business
Intelligently placed across multiple platforms, your content works to bring in customers and profits day in and day out. A business succeeds when they have 24-hour content rotating around multiple streams. Some people prefer videos; give them an instructional YouTube video. Some people prefer to read a blog to learn the benefits of a product. Other people want to know all about your business and turn to your website to gather those details. Each platform is just as important as the next, although it is vital to learn which work best for your industry and business needs. When correctly used, content marketing can take your business to a new level of success.
Industry Expertise: Are You in the Lead?
The right content helps to demonstrate industry expertise. Nothing is more important than demonstrating that you are an expert that customers can trust for their needs. This always stands out in the mind of a customer who's turned to your business to resolve their problem. Customers want a business that has a solution to their problem, a business that seems concerned and dedicated to providing that need. When a customer trusts the information provided to them, they'll continue to use your products and services and otherwise tell all of their friends that you're around. This is how businesses grow and become a successful venture that owners hope for.
Types of Content Marketing
You'll find a myriad of content marketing strategies that can help your business grow. It is ideal that you learn more about each of the types of content marketing, the pros and cons that it offers and then decide the best means of marketing to your customers and potential customers. Among the most popular content marketing strategies to put to work for your business include:
Blogs: A blog provides the reader with fun insight and information related to your industry or products and services.

eBooks: Oftentimes presented as a free gift for customers, eBooks offer informative, fun reading for the customer.

Infographics: Infographics provide statistical information with photos in an easy-to-read format. They're fun to create and to use for reference, which means they're oftentimes used online by customers and others who want to share information with friends and family.

Videos: Videos build stronger connections with customers, regardless of the type of video being presented. Create videos that create interest for many different groups of people for best results.

Memes: People love memes. They're funny and make us laugh. People love to share memes on social media. Creating a few memes branded with your company's information ensures your name is spread online like hotcakes!
The content marketing techniques above are some of the most popular ways businesses reach out to customers and potential customers. There are many other content marketing techniques in addition to what's listed here that may also provide the results that your business wants. Learn more about content marketing with the help of an expert and you'll find that choosing the best marketing techniques for your business is simple.
Content Marketing Delivers Results
More than 60% of customers purchase a product after reading recommendations on a blog or social media post. These statistics prove that content marketing is powerful and has the potential to do great things for a business of any size, in any industry, and regardless of the time in business. If you've yet to embark on content marketing and the power that it brings, now is the time to begin exploring the many ways it benefits your company.
Comments
comments