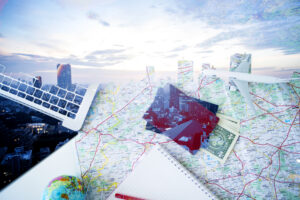 This article will clarify who is eligible for Israeli citizenship and which immigration options are available to non-Jewish foreign citizens, who have Israeli or Jewish family members. It should be stressed from the start, that a non-Jewish family, with no connections to Israel and without Jewish heritage – will not be able to immigrate to Israel and stay in the land for more than a short period of time. However, in this article we will explain all immigration options for those who are not-Jewish, but do have Jewish background, or family ties to Israel, or if interested in various visas to Israel and short term immigration.  
Most non-Jewish family immigration to Israel is done by joining a spouse or partner and moving to Israel together. This is either for those who are eligible for Aliyah according to the Law of Return, or partners of Israeli citizens who wish to live jointly in Israel and undertake the naturalization process according to the Law of Citizenship. 
However, in some cases, foreign citizens who are not Jewish can move to Israel, according to special provisions in Israeli immigration law, or available visa programs. For example, non-Jewish elderly parents of an Israeli, American investors in Israeli businesses, obtaining a work visa, parents who have a child serving in the IDF, and more. 
Immigration to Israel by way of Aliyah for family members
Israel is defined as a Jewish Democratic country, and its immigration goals include the "Aliyah" of the Jewish Diaspora to Israel. However, according to the Israeli Law of Return, non-Jewish family members can also be eligible to receive Israeli citizenship, if they make Aliyah together as a family unit.
Israeli citizenship can be granted to the following family members:
Spouses of Jews. 

Children of Jews, and their spouses.  

Grandchildren of Jews, and their spouses. 

Great-grandchildren of Jews, provided they are minors immigrating with their parents.
Immigration to Israel by way of Naturalization for partner of Israelis  
The Israeli Law of Citizenship allows Israelis to marry non Jewish foreign citizens and live together in Israel. At the end of a 5-7 years process the foreign spouse will be eligible for Israeli citizenship, or permanent residency, if Israel has been their center of life.  
This right has been expanded by the Israeli Supreme Court to include non-married couples and also same-sex marriages and partnerships. The legal process is called the gradual procedure, because it's done in stages. At the beginning, the foreigner will receive a short term work visa. Next, and only after the relationship is verified by the immigration department as genuine, the foreigner receives temporary residency. The end of this procedure allows to foreign spouse the possibly to apply for long term status in Israel; citizenship, or permanent residence. 
These are the ways for non-Jewish family to receive Israeli citizenship:
Spouses or partners of Israeli citizens.

Children of Israeli citizens – any child born to an Israeli, either in Israel or abroad, either Jewish or not, is considered Israeli from birth.

Minor children of spouses of Israeli citizens. 
Can an Elderly and Lonely Parent of an Israeli Citizen Immigrate to Israel? 
Israel allows the elderly parents of Israelis to immigrate to Israel, provided the parent is alone and has no other children living in the same country as them. Initially, the parent will receive a temporary residence visa in Israel. Eventually, they will be able to apply for permanent residency. This special immigration process was passed in order to allow non Jewish family members of Israelis to immigrate to Israel. 
Can Parents of Lone Soldiers Serving in the IDF Immigrate to Israel?
Parents of lone soldiers are allowed to move to Israel, provided they arrive during the soldier's military service, or shortly after. More precisely, the parents can move to Israel after the soldier is discharged, provided they arrive in a time period that is equal to the time the soldier served. 
For example, if the soldier served for 24 months, the parents can come during this time, or in the 24 months after the soldier was discharged (with a time limit of 64 months).
Firstly, the parents receive a B-2 tourist visa that allows them to stay for up to 90 days in Israel. After that, it is possible to get an A-5 temporary residence status that enables the parents to stay for up to 4 years. Eventually, the parents can apply to become permanent residents. 
Please note that this procedure exists only for parents of lone soldiers, and it cannot be applied to future spouses of the divorced parents or other family members.
Can the "Righteous Among the Nations" Immigrate to Israel?
In Israel, the title "Righteous Among the Nations" is given to non-Jewish people who risked their lives to save Jews during the Holocaust. So far this title was given by Yad Vashem to about 28,000 people.
As an appreciation for the efforts to save Jews, Israel allows people with this title and their children to work and live in Israel. They can receive a B-1 work visa for one year, which can be extended to a maximum of 5 years. After that, Israel can grant them A-5 temporary resident status for another 5 years. Afterward, they will be able to submit a request to become a permanent resident of Israel.
Can I Move to Israel for Work?
In addition to obtaining citizenship according to the Law of Return, or Law of Citizenship, there are situations in which Israeli law allows foreign citizens to live and work in Israel. Therefore, if you or your family members are interested in moving to Israel but you do not fit the legal requirements for citizenship – you may have other options.
Any foreign citizen who is interested in staying and working in Israel must have an appropriate visa. A B-1 work visa can be granted to foreign workers who are experts in their field. For instance, workers managing hi-tech projects, athletes and academics may receive this type of visa.
Can I Move to Israel to Volunteer? 
In order for foreign citizens to be allowed to volunteer in Israel, they need a B-4 volunteer visa. In most cases, a volunteer visa is granted for six months. In some situations, the duration of the visa can be extended for a maximum period of 2 years. The spouses or children of the volunteer can also get a visa for the duration of the volunteering.
Can US Investors Immigrate to Israel?
The B-5 investment visa allows only US citizens to obtain legal status in Israel by investing in local business ventures. The spouses and children of the investor are also eligible for visas. The investors and their family members can work and live in Israel as long as the businesses they invested in are active.
Consultation with Immigration Lawyers
Our law firm specializes in immigration law. We have branches in Tel Aviv and Jerusalem, which are staffed by expert lawyers who represent private and commercial clients with regard to living, working, and residing in Israel. If you require legal assistance with immigration to Israel, do not hesitate to contact our offices for professional consultation on the matter. 
The process of obtaining Israeli citizenship, residence, visas, or work permits can be complex. Therefore, it is highly recommended to consult with an immigration lawyer who specializes in Israeli immigration law.  
Our firm has extensive experience in this field of non-Jewish family immigration to Israel.  We can help you with a wide range of issues, including obtaining citizenship, visas, applying for residency, defending against deportation, and more. If you have any questions regarding non-Jewish immigration to Israel, an experienced lawyer from our firm will be happy to assist you.
Comments
comments