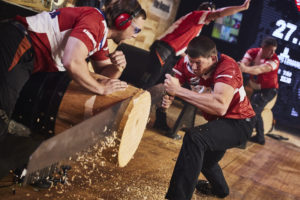 CBD has become a buzzword and with each passing day, we are finding new reasons to praise this miraculous compound.
CBD oil has caused a stir among the mainstream media owing to its astounding health benefits and it has shown promising results for treating inflammation, joint aches, and chronic pain. Due to these wellness gains, CBD has become a popular choice among athletes. 
In Canada, the CBD industry has been progressing exponentially and since the removal of CBD oil from the list of prohibited substances for sportsmen by the World Anti Doping Agency (WADA), CBD oil has been widely used by athletes for aches and pain. 
What is CBD?
Cannabidiol or CBD as it is widely recognized, is a derivative of hemp plant that has countless health benefits. CBD oil is made up of CBD, THC, and other naturally occurring compounds in the hemp plant. Since THC has a reputation for causing high amongst its users, it is only present in trace amounts in CBD oil products and some products do not contain THC. As per Canadian law, CBD oil cannot contain more than 0.3 percent of THC and such a little amount is insufficient to cause a high, hence CBD oil has no danger of intoxication. If the CBD oil has a greater proportion of THC it will show up on the drug test of the athlete and it can even put the athlete at risk of intoxication. 
CBD oil comes in a variety of different forms such as CBD Oil or tinctures that are placed sublingually, to CBD gummies, CBD lattes, CBD capsules, and topicals. Some athletes use CBD in vape pens too. So there are plenty of ways an athlete can choose regarding how they would like to use CBD based on their preference. While ingesting CBD oil in any form may take some time for the effect to kick in but generally the benefits last longer. On the contrary, inhaling CBD oil through vaping is the quickest way to experience the effects of this product, but the effects are also the most short-lived. 
Benefits of CBD for Athletes 
There's no denying that athletes are most prone to physical injury due to their tough workout regimen and due to the fact that they exert maximum potential on their bodies to deliver unbeatable performance on the field. Hence it is not surprising that they usually have to deal with muscle aches and joint pain. Athletes, even though strongly built, are humans and have the same recovery and healing mechanism as all of us do so here's where CBD oil is a great help to them. CBD oil helps in improving the healing and recovery period for athletes  and since it comes with almost no potential side effects, this product is quickly becoming athletes' favorite!
So here is how CBD oil benefits  athletes.
1. Provides pain relief 
CBD oil has great analgesic properties as the CBD extract interacts with the endocannabinoid system to interfere with the pain signaling thereby resulting in analgesia. For this reason, CBD Oil is used by athletes pre or mostly in post-workout settings. By using CBD oil they train better and an added benefit of CBD oil is that it provides users with a boost of energy-a cherry on top because what more does an athlete need!
2. Promotes the healing of fractures
It is not uncommon to receive a fracture when you are an active sportsman but healing of the fracture takes time and CBD oil eases this process. By interacting with the collagen protein present in the bone, to produce a ground for mineralization, CBD oil shortens the time it requires for a broken bone to heal.
3. Produces anti-inflammatory effects 
CBD oil acts by reducing inflammation by interfering with the endocannabinoid system in the body. Consequently, it reduces swelling, joint tenderness, and muscle aches and helps athletes recover sooner. 
4. Improves sleep 
Good quality sleep is often underrated but it impacts an athlete's performance greatly. CBD oil helps individuals with sleeping peacefully as sleep is integral for recovery. Therefore, improved sleep helps athletes by reducing anxiety, performing better, and healing quicker. 
So if you are athlete there may be a plethora of options for you both online and in stores to get CBD oil in Canada, and it is best to do your research and invest in locally grown organic hemp products since the sea of products in the Canadian CBD industry can overwhelm you but seeking help from the web and learning about CBD oil products can benefit you a great deal in choosing the right product for yourself!
Comments
comments