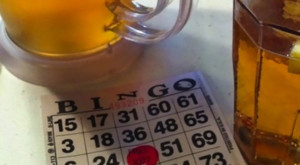 Chances are that you're probably aware of bingo and might have played a couple of rounds yourself. But have you ever wondered where the game first originated? Well, the answer may be much closer to home than you might imagine.
What makes the story we'll tell even more amazing is just how popular bingo has grown to be in a little under a century. It's also being played today by many more people than ever before thanks to the rise of the online version of the game. Although it's thought that to experience the best online bingo UK sites are the ones to visit, thanks to the wide range of different versions of the game available. Some are themed to TV shows like Deal or No Deal and movies like Grease. Others have links to popular slots like Rainbow Riches and there's even a new version of the game called slingo – an actual combination of slots and bingo. However, it's still a thriving sector of the US gaming industry too. 
But this is all a far cry from the birth of the game which is generally considered to have taken place in 1929. It was the invention of a young travelling salesman called Edwin S. Lowe who was on a tour of the county fairs of North Carolina and Georgia where he hoped to do business. Traveling from his home in New York and stopping at a number of places en route, very probably including Charlotte, it was at the Georgia State Fair in Atlanta that he came across a game being played that he had never seen before. It was called "beano" because each player had a pile of beans and a game card printed with numbers. As each number was called, anyone with it on their card put a bean on it. When the whole card had been filled, the winner called out – you've guessed it – "beano".
Lowe's entrepreneurial spirit told him that this game had huge potential. So when he got back to New York he showed it to friends and invited them to play. In one of these trial runs, one of the players got so wrapped up in the excitement of winning they called out "bingo" instead of "beano" and it suddenly clicked for Lowe that this was a much better name for the game. He then joined forces with a mathematician friend to create a way to generate and print 6,000 different gamecards with a unique set of numbers and, by 1934, it was estimated that there were over 10,000 games being played each week in the US. At the peak of the bingo boom his business, The E.S. Lowe Toy Company, had over 1,000 employees and was said to be using more newsprint than The New York Times.
Lowe went on to popularize the classic dice game Yahtzee and even opened a hotel in Las Vegas called the Tally Ho Inn. This was the one big miscalculation of his career as its lack of casino meant it never succeeded as a business.
Nevertheless, his overall success was undented, having sold his company for $26 million in 1978 – a far cry from the early days when he was an itinerant salesman plying his trade in this region.
Comments
comments