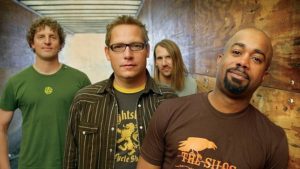 90s rock legends Hootie & the Blowfish are about to perform live in Charlotte for the first time in over 10 years.
"One Week" favorite Barenaked Ladies will be joining them as the opening act. The 'Group Therapy Tour' will start May 10th in Virginia Beach and run through Sept. 13 in South Carolina.
Hootie and The Blowfish is an acoustic rock four-piece featuring Darius Rucker, Mark Bryan, Dean Felber and Jim Sonefeld. They earned major radio and touring success in the 1990s and 2000s with legendary ballads like "Let Her Cry," "Only Wanna Be With You," and "Time". They won two Grammy Awards in 96 for "Cracked Rear View," which went on to become one of the best-selling albums of the 90s.
Tickets for the "Group Therapy Tour" at the PNC Arena are now on sale to the general public via Stubhub and Live Nation, and tickets can also be purchased between now and the time of the show at the PNC box office.
Comments
comments