Hurricane Florence is continuing to move closer to the eastern seaboard on a relatively straight path as a powerful category 4 storm.
The storm will significantly slow down after hitting land. It's anticipated to take over 48 hours to travel from the North Carolina coast to the Raleigh area.
It will likely decrease from a Category 4 storm over water on Friday to a Tropical Storm before reaching the middle of North Carolina or bottom of Virginia by Sunday.
Charlotte could see wind speeds between 40-60mph between Friday morning and Sunday night;
and up to 2 inches of rain (which will likely cause significant flash flooding around our region);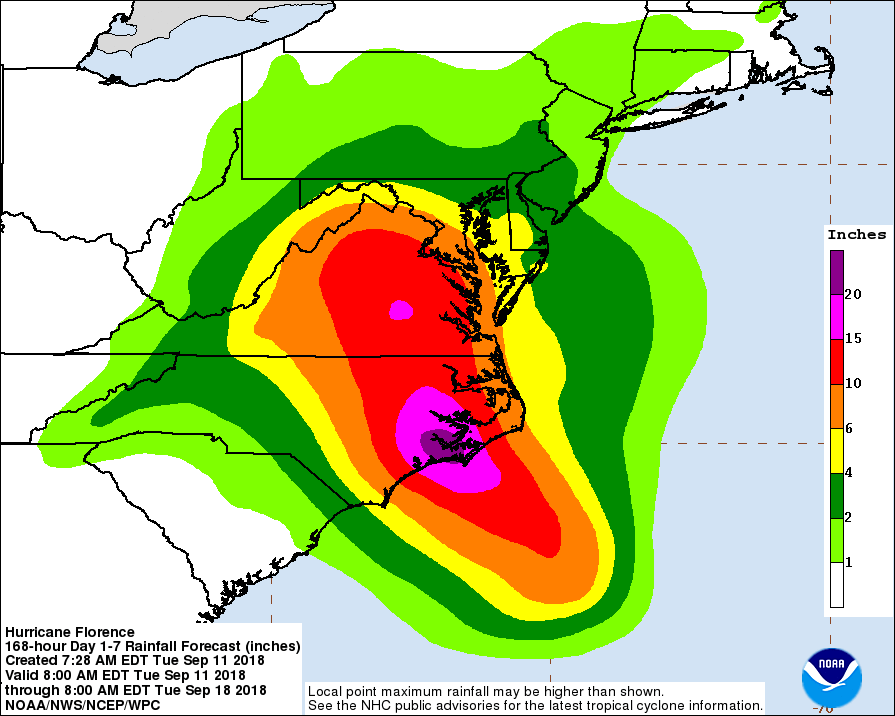 There could be a significantly greater threat to the Charlotte region if Hurricane Florence intensifies to a Category 5 storm, although the chances of that happening are fairly slim based on the current intensity forecasts; 
50 MPH winds and flash flooding around Charlotte will likely knock down trees, cause pockets of power outages, and make some roads impassable.
In case of a power outage, make sure to have the following emergency items stocked in your home;
All the above items are available via Amazon's same-day Prime Now service if your local store has already been cleaned out.
The City of Charlotte sent us a press release last night about Hurricane Florence with the following information for local residents;
Now is the time before the storm to clear nearby storm drains and small creeks.
Keep curb and gutters free of leaves, litter and branches
Please call 911 for true emergencies. Use 311 to request non-emergency services.
Review your family preparedness plan. Don't forget to include your pets in your planning.
Take inventory of your emergency kit and restock on essentials. 
The city also wants to remind residents that "September is National Preparedness Month, so now is a great time to think about preparedness and safety for all emergency situations."
UPDATE 9/13/2018 8:00am:
Hurricane Florence has just been downgraded to a Category 2 storm, but has also grown in overall size, increasing the reach of its damaging winds. It could still marginally strengthen before making landfall, but it will likely remain a Category 2 or weak Category 3.
Comments
comments