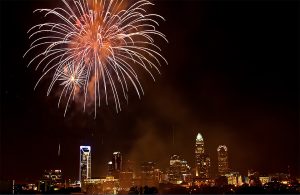 Independence Day weekend is finally here, and along with hot dogs and burgers, there will also be plenty of fireworks all over our region over the next few days.
Most towns surrounding Charlotte will be having a 4th of July festival on Tuesday, but there are also several events happening this coming Saturday night and Monday night, with live music, food, and explosions of light.
Here are biggest 4th of July fireworks displays this year around the Charlotte region (weather permitting);
Saturday, July 1st
Charlotte Symphony SUMMER POPS: CELEBRATE AMERICA!
Charlotte Symphony will be playing this coming Friday at SouthPark's Symphony Park. Gates open at 5 p.m., prelude performances start at 7 p.m. Charlotte Symphony performs at 8:15 p.m., with Fireworks immidiately after the show.
$5 – $16 in advance, $7- $18 at the door. Children 12 and under free.
Watch fireworks over Lake Norman this coming Saturday at the Queen's Landing. The fireworks are free but there are also many river cruises available for a fee, as well as carnival rides, food trucks, and a showing of the movie "Independence Day" after the fireworks.
Monday, July 3rd
Rock Hill's Old Town in Rock Hill will be hosting a festival this coming Monday night starting at 5:30pm with a kids' zone (with a fee), a free concert, and fireworks at 10 p.m.
4th of July Festival at US National Whitewater Center
The Whitewater Center will host two nights of fireworks on Monday and Tuesday with live music followed by a fireworks display each night. Live music includes The Wood Brothers, The Congress, Hollis Brown, and more. Admission is free. Parking is $5.
Tuesday, July 4th
4th of July Celebration at BB&T Ballpark – United States Vs. Cuba
Skyshow Fireworks Spectacular will follow the Fourth of July game between the United States and Cuba. (you can buy tickets for the game here.) If you're not attending the game, you should be able to see the fireworks from any place adjacent to the ballpark, like Romare Bearden Park. There will also be a huge street party from 2:00 p.m. to 10:00 p.m. in front of the ballpark, with live music, carnival rides, bounce houses and more.
Bojangles Summer Shootout with Fireworks 
The Charlotte Motor Speedway will be hosting a Fourth of July festival featuring tons of fender-banging action, with an autograph session, school bus races, a Mascot Mania battle among area sports mascots, and massive fireworks shows. Gates open at 5pm and fireworks will start at dusk – tickets are $8.
Carowinds will be lighting up the sky above the Carolina state line during their annual fireworks celebration show. The show is set to start at 9:30 p.m.
Waxhaw 4th of July Celebration
Downtown Waxhaw will be hosting a parade on July 4th featuring a hometown parade in downtown, a beach party in the afternoon with watersides and live music, plenty of fireworks at night!
The parade is starting at 10 a.m.; Beach party 4:30 p.m. to 8:30 p.m.; Fireworks at dusk. Entry is free.
Tega Cay 4th of July Celebration
Tega Cay's festival starts with a parade on Tuesday morning at 9am, followed by a canoe joust, a boat parade, the Carolina Ski Show Team's performance and a fish fry, and then at 9:30 p.m. there will be fireworks to top off the night.
Please share;
Comments
comments