On Sunday, May 7th, the City of Charlotte, Mecklenburg County, and Partners for Parks will be closing several city streets around Elizabeth and Plaza Midwood for our city's third official 'Open Streets 704'. 
The first two Open Streets 704 events saw over 25,000 people ditch their cars to walk, ride, skate, and skip down the middle of our city streets.
According to surveys filled out after the event, participants overwhelmingly agreed that Open Streets improved their overall image of Charlotte, and strengthened our community.
Given the growing popularity of the last two Open Streets, this will undoubtedly be the biggest and most active one yet.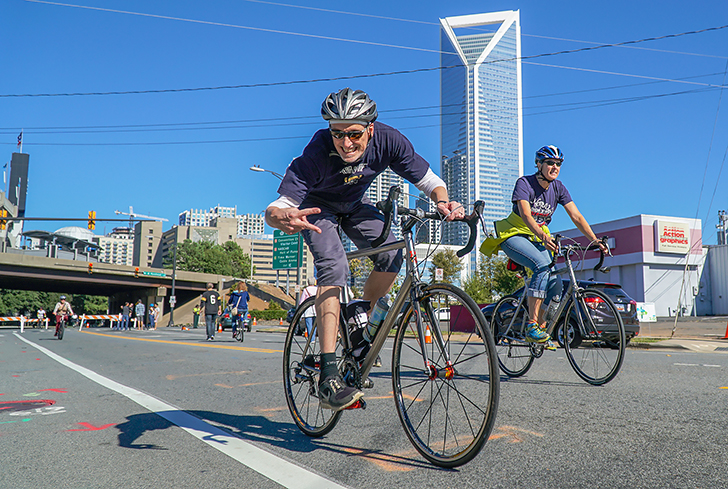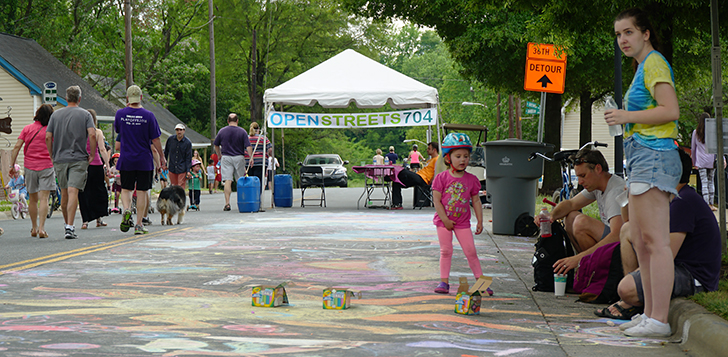 For Charlotte's Third Open Streets, the city will be temporarily closing a winding path from Charlottetown Ave. to Commonwealth Ave. to all motorized vehicles on May 7th, from 1pm – 5pm in the afternoon.
There will be 4 'zones' along the route that will only be accessible to pedestrians and bikers, including:
Family Zone: Fun for the whole family! From bean bag toss to a pop up dog park – be prepared to get active. Activities will include: street soccer, bicycling demonstrations, pet crafts,  life-size jenga, and more.
Green Zone: Be prepared to learn about nature, plant trees in the community, lend a helping hand in the garden, and talk about the wildlife from local nature centers.
Wellness Zone: Work on a fitter/healthier version of you! Cooking demonstrations, yoga classes, Zumba, and healthy heart initiatives will fill this zone with fun.
Arts and Science: Opportunities abound to explore your creative side. Musical performances, artist demonstrations, interactive maker spaces, and dance ensembles of all ages will engage with Open Street 704.
Find out more on the Open Street 704's Website, Twitter, Facebook, and Instagram.
Comments
comments