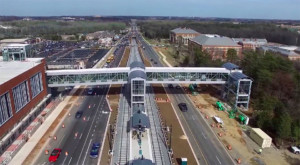 The LYNX Blue Line Extension (BLE) saw its official groundbreaking on July 23rd 2013 – now almost 4 years later, things are really taking shape.
Nick Price from UNCC decided to make a full-length fly-over video of the new $1.1 billion line.
It will take the average passenger 22 minutes to travel from Uptown Charlotte to UNCC, but Nick was able to do it in just over 18 minutes with his drone:
The new line will feature a total of 11 stations and 4 large park-and-ride structures with over 3,100 total parking spaces (2 of them are directly across from UNCC on Tryon). It's now estimated that it will carry an average of 25,000 riders per day.
The LYNX Blue Line Extension is now scheduled to open later this year year. You can follow the continued progress here on the Extension's Update Facebook Page.
Comments
comments