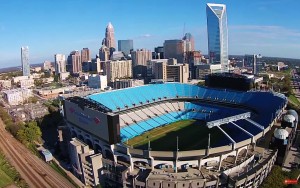 With the Panthers up for sale and the ultimate intentions of the new buyer in question, many Carolina Panthers fans are worried about the possibility of the team moving to a different city, especially if a better stadium deal is offered.
This past week, however, the commissioner of the NFL indicated that he would make it difficult for any new Panthers owner to move the team.
"I think all of us and the owners believe Carolina is a great market," Commissioner Roger Goodell noted during an interview. "It's a market we would like to stay in and we hope that the franchise owner that is eventually selected will have that view. As you know, that is subject to review by the ownership … and I'm sure that will be a question that many owners will ask, and I think that will clearly be the intent of our ownership."
The fact that the head of the NFL wants the Panthers to stay in the Carolinas would mean that any owner wanting to move the team would face an uphill regulatory battle for any move from the NFL.
One of the biggest factors surrounding a potential move is the stadium – Bank of America Stadium is below current NFL stadium standards and a new owner will likely try to secure millions of dollars in Charlotte tax money to upgrade or build an entirely new stadium. If the city denies the requests or offers a low amount, the new owner could start asking other cities how much money they'd be willing to offer to help build a new stadium in their city.
Are you worried the Panthers might move?
How much tax money do you think Charlotte should give toward a new stadium?
Comments
comments