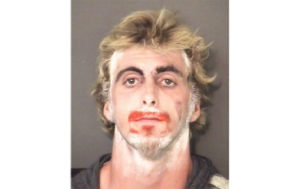 A man was just arrested in Indian Trail for carrying a hatchet around while dressed as a clown.
Union County police were called to the Wilco convenience store on Chamber Drive this past Sunday evening at around 5pm.
The man was described wearing dark clothing and clown paint on his face. He was gone when police arrived, but a few hour later, they found 20 year old Travis Pressley down the street matching the description. When they searched him, they found marijuana, a pipe, and a hatchet in his backpack.
Officers charged Travis for second-degree trespassing, carrying a concealed weapon, possession of marijuana and possession of paraphernalia.
According to his Facebook profile, Travis was also arrested at a Walmart in 2014. He commented that the incident also occurred "4 days before my birthday."
With all the strange clown incidents happening around the country, it's more important than ever to be on the lookout for anything that might appear strange.
Comments
comments