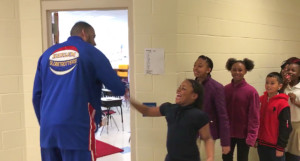 Ashley Park PreK-8 in Charlotte, NC has become an internet sensation with Barry White Jr., a fifth grade English Teacher, creating a distinctive ritual for each one of his students. Mr. White Jr. created an idea to greet his students with different styles of handshakes inspired by each one's personality and caught the eye of many across the nation (he even performed his handshakes on the Today Show and Good Morning America).
To make his kids feel even more special, he recently invited Harlem Globetrotter star Zeus McClurkin to Ashley Park to join in the fun, Globetrotter Style.
The video was just posted last night and already has over 42,000 views:
The Globetrotters will bring their 2017 World Tour to Halton Arena on the campus of UNC Charlotte this Saturday, March 25th at 2:00 p.m. and 7:00 p.m. Tickets are now available here at TicketNetwork.com.
Comments
comments