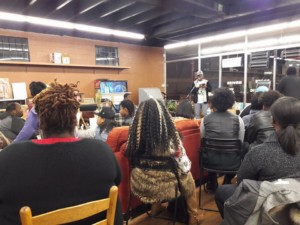 Every fourth Saturday, Guerilla Poets host their monthly Encore: Open Mic series at The Last Word bookstore in north Charlotte. While open mics are common around Charlotte, Encore uses the arts to empower people to unite for change.
This diverse open-mic encourages people of all ages and backgrounds to come together and express themselves. Performers can share an international potluck of cultural dishes before show time, and free painting supplies are provided so everyone can get creative.
Encore is one of many free events organized by Guerilla Poets. Founded in December 2012, Guerilla Poets is a collection of artists dedicated to helping the community. The group offers free art programs across North Carolina, and even operates a United Kingdom branch.
Guerilla Poets founder Shane Manier said besides Encore, the group host two other open-mics. Free the Mic in South Charlotte gives poetry workshops before performances, and One Mic Stand in Kannapolis accepts donations for local charities.
Although only Encore is considered family friendly, Manier says performers strive to be considerate.
"If there's any kids at any of our open mics we try to watch our language and things like that," she said. "But, we do encourage strong themes, because the whole idea is to give people a platform to get free."
Manier said events like open mics are usually where they recruit members. It was one open mic at a Lincolnton, NC café, which inspired her to create the group.
While reading her poem, "Sitting beside the fence with death and a pack of cigarettes," an old man coming in for food noticed her. After she finished, the man threw his arms around Manier and tearfully thanked her for saving his life.
"He was like, 'I was going to go home and kill myself, and I didn't know you guys were doing this,'" she said. "'I came in here and heard that, and I just want you to know that it really touched me, and I'm not going to now.'"
Seeing how poetry could affect people, Manier said she wanted to help others through the arts. After calling out on Facebook, she formed Guerilla Poets with four members. Like all members, she took a code name which reflected her work. She chose the alias Riot.
Originally a flash poetry mob, the group gradually shifted to community volunteering. Last year, they became a 501c art charity, and now have partnerships with organizations like Charlotte Art League and Arts & Science Council.
Most Guerilla Poets services revolve around youth outreach. Manier said one of their biggest projects is Vibrations, a monthly art exhibit at Charlotte Art League. It features artwork from at-risk teens in their workshops with the Mecklenburg County Juvenile Detention Program, TYM, Inc., Time Out Youth and Crisis Assistance Ministries. All art sale proceeds go directly to artists.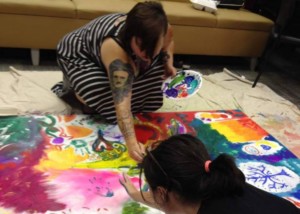 She says the event shows teens what they're going through is temporary, and the city is willing to support them. Working with teenagers is something Manier wanted to do ever since her own rough teen years.
Due to her father's work, she was raised traveling. Growing up on the road exposed her to things most kids couldn't relate to. She saw how corrupt the world was, and began to struggle after her fathers' sudden death. Unfortunately, she never received the right kind of help.
From an early age, she used writing and drawing to talk about her experiences. However; she didn't truly become involved until realizing how the arts could touch people.
Guerilla Poets members often share their talents with youths. This summer, they gave free art workshops at West Boulevard Library, through Arts & Science Council's Culture Blocks program. These all-ages classes took place the first Saturday of the month, and will resume in November.
Tarik Kiley says his workshop, History of Hip-Hop Thought, covers hip-hop's development from the early '70s to mid-2000s. From Gil Scott-Heron to Migos. Kiley, who goes by Mixed Thoughts, has been involved since the beginning, and has a long musical history.
Originally from Baltimore, he learned Afro-Cuban music in high school, and began producing beats for friends. At 18, he moved to Charlotte. Unable to start a band, he started writing his own raps. He met Manier and another original member while freestyling at open mics.
"I went to an event in NoDa were she and he were performing. I was so impressed," said Kiley. "Shane was so humble, she was so open to other people's ideas that I asked her if I could join."
The group was a perfect place for Kiley, who has years of volunteer experience working with charities like Hands on Charlotte. His community networking connected them to Culture Blocks.
Kiley wants to expand their music outreach and teach more. He created his workshop after substitute teaching at Charlotte-Mecklenburg Schools, and seeing rapping students ignorant of its history. By better understanding hip-hop, he hopes students will improve their craft.
Darwan Pursoo says he's learned a lot from the students in Kiley's workshop. Teaching is new to Pursoo, who said before Guerilla Poets, all he focused on was promoting his music.
A life-long rapper, he first got hooked listening to mid '90s acts like Bone Thugs and Harmony and Tupac. He started rapping during middle school in Huntington, West Virginia, and began releasing music once he came to Charlotte three years ago.
New to Charlotte, and looking for friends with similar interest, he attended a Guerilla Poets open mic. That's where he met Manier. The two bonded, and she told him about the group. Within a few months, he ended up joining.
Pursoo, aka Nitewing, said Guerilla Poets made him perform with the mentality of giving back. He's taught at juvenile teens workshops, and read poetry to the elderly. He says volunteering taught him about different cultures throughout Charlotte.
"There's a huge difference, I'd say, between knowing about stuff like LBGT community, and then going to a session where you actually hear them do poetry, and you hear their issues directly from them," he said.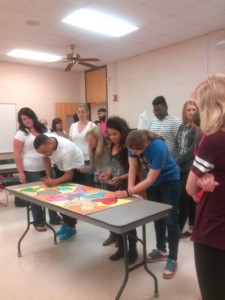 Other members say being in the group has changed them. Daniel Gurley said helping children, and seeing their innocence and potential reminded him of his own humanity.
Gurley, or Versifier, learned about the group through Manier. When not volunteering, he plays guitar and m.c.'s at open mics. He wasn't always comfortable sharing his skills. At first, he felt anxious about interacting with the community, but learned to use his strengths to help others.
He hopes they will help more with homeless supportive housing, and start a garden program. As a country boy raised to garden by his father, Gurley says he knows it would benefit city kids.
"I mean, the city's like concrete, and hard. Metallic," he said. "I think if a lot of, especially youth, if the youth can see nature more often they would be able to reconnect, or connect with something bigger than themselves."
Currently, the group is in the process of restarting Save the Humans, a self-sustainable farmland project. Manier says they try to tailor programs where the need is, and believes two problems with the arts, and community should be addressed.
She says there is a staleness in the arts and a renaissance must occur. Artist must thrive together creatively, instead of competing against each other.
In neighborhoods like west Charlotte, she said people must see the need for groups like Guerilla Poets. She says all the negativity in the world and in the media makes people feel unable to change things. Through art, she wants to inspire them to think differently.
"If you show somebody that they're not powerless then that goes away," she said. "Everyone really, deep down, they do care. It's just, they're frustrated, and they feel powerless. And once you show them that they're not, their entire life starts to change."
She said Guerilla Poet has been amazing, and is surprised with its growth. One reason for that, she says, is its passionate members. The UK branch started when a famous punk band associated with ex-member Joshua Bartley, codename Agent Orange, shouted them out in a podcast. British poets soon began contacting the group, asking how they could do something similar.
Having Guerilla Poets in her life showed Manier that people from different ages, different cultures and different beliefs can come together to do good.
"Everybody does incredible work together, create such incredible things together," she said. "It really makes me believe in the whole, people can co-exist. As long as you strip off this other manipulation and these other things, and it's really beautiful."
For more information on Guerilla Poets events, visit their Facebook page; https://www.facebook.com/guerilla.poets.founders/, or go to their website; http://guerillapoets2012.wixsite.com/guerillapoets to contact them.
Comments
comments