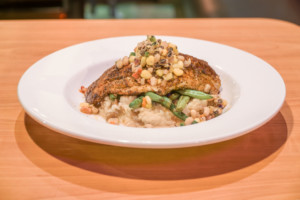 Swordfish is very useful for us in eating. Swordfish is marinated in lemon, garlic, olive oil and herbs, and then scared on the grill until golden brown. The absolute best way to prepare swordfish, this dinner easy yet elegant. 
Swordfish is a least firm-texture and meaty white fish. It's found in Mediterranean and Atlantic Pacific waters.
Physical Characters of Swordfish
The Swordfish has a fairly long body with large round eyes. It has two fine one crescent shaped and other one is rigid like rudder on a ship. It has a broad crescent shaped tail. It has fin-like membranes lining up on the upright portion of the spin from the tail to the head of the swordfish. Usually the belly
Of a swordfish is a tinted silvery white coast. The swordfish can b found in a wide verity colors from a brownish color to a grayish-bluish colure. 
It has physique weighing an average of in between 198 and 330 pounds. Once at North Atlantic fish is caught at the weight of 1210 pounds. 
Who to make it?
Swordfish streaks cook within ten minutes. Following are the things needed for making grilled swordfish.
Preheat the grill  
In the beginning completely clean the grill grates and preheats it at high temperature.   
Season the fish
Then drizzle the lemon juice on swordfish steaks and sit them for 2 minutes to absorb in it.
Oil the grates
 If you oiled the fish. It is too important to oiled the grates.
Grill the swordfish
Grill the fish within 3-1/2 to 4-1/2 minutes per side. Grill the fish until the streaks are opaque.
Top with compound butter
When the fish comes from the grills then melt the compound butter on it. This adds the moisture and extra flavor.
Who to keep fish from sticking to the Grill
For to keep fish from sticking to the grill make sure your grills clean, if there are some bites of old food left on grill then the swordfish like to stick quickly. Before placing the fish on the grills, brush your grill grates with vegetable oil. Before adding the fish make your grills pre-heated.  
Benefits of Grilled Swordfish
Swordfish belongs to a small group of fishes. It contains essential amino acids, omega-3 fatty acids nutrients and Vitamin B12, it have no carbohydrates. It is many beneficial for the people who are following low-carbohydrates, high-protein diets. It contain 55 percent of the daily value of protein, 22 percent of the DV of cholesterol, 42 percent of DV of fates, 6 percent of DV of saturated fat and contain 146 calories.
It is a great choice for a healthy diet. It's low in fat, carbs, calories and high in proteins. I usually served my swordfish with rice or pasta and added green vegetables on the side; it is a very simple and tasteful dish for me.
It is very beneficial for body but some type of sea fishes contain contaminants that are harmful for human bodies.  
Comments
comments