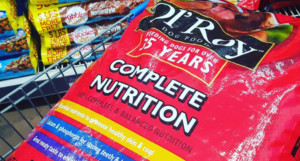 Retailers have just pulled at least 31 varieties of dog food off their shelves across the nation and issued a full recall after the dangerous euthanasia drug pentobarbital was discovered in the food.
Pentobarbital is used to euthanize animals and has also been used in doctor-assisted death as well as in carrying out the death penalty.
The FDA launched a full investigation after discovering the drug in the food, and now, the parent company of most of the 31 brands of food, Smucker's, announced a voluntary recall, including the majority of products in the Gravy Train, Kibbles 'N Bits, Skippy and Ol' Roy lines of canned food.
The brands largest retailer, Walmart, has now removed the food from all 4,700 of its stores.
ABC News recently tested 15 cans of the recalled dog food and found that 9 of those cans (60% of the sample group) tested positive for the animal euthanasia drug, pentobarbital.
The levels that were detected were not at fully lethal levels, but under federal law, dog food is never allowed to have any amount of pentobarbital in it.
Listed below are all the recalled brands and their corresponding UPC numbers.
If you have any of these pet foods in your home, please either throw them away, or returned them the place of purchase for a full refund – they should never be fed to pets;
Pulled Dog Foods brands
If you want to contact the FDA, Smucker's or Big Heart Brands here are their numbers:
FDA: 888-463-6332
Smucker's: 888-550-9555
Big Heart Brands: 415-247-3000
Please help spread the word.
Comments
comments