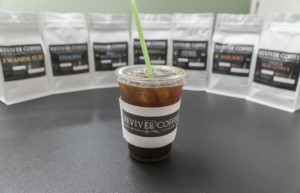 Coffee continues to rise in popularity
in North Carolina, with more than 50% of individuals over the age of 18 drinking at least one cup every day. While cappuccinos, iced coffees, Americanos and Lattes remain ultra-popular, an increasing number of coffee lovers are turning to espresso for their daily caffeine fix, according to
Brew Smartly
. Like most cities across the USA, Charlotte has no shortage of wonderful coffee shops and other eateries that serve some of the most aromatic espressos and other brews imaginable. Whether you're looking to grab your next shot of java from a laid-back chain outlet or prefer sipping on your drink in a more eclectic atmosphere, you are 
bound to find a café
 that will suit your every need.
Caribou Coffee
Caribou Coffee
 is a popular coffee shop franchise in the USA and boasts a number of branches in Charlotte that exude a warm and welcoming atmosphere. The menu is filled with a delicious range of hot and cold beverages, of which the espresso is particularly popular. The  
Cross Fox
 espresso is described as the 'beating heart' of Caribou Coffee. While it is strong enough to be the co-star of the espresso-based beverages on the menu, it is even more delightful on its own. For coffee-connoisseurs who prefers their espresso with a dollop of dairy, the  
Macchiato
 remains a firm favorite. Although a regular espresso is bound to give you a welcome boost for the day ahead, there are some days that will require something with a little more kick. The  
Depth Charge
, which consists of a black coffee spiked with
a freshly-brewed shot of espresso
, is perfect for anyone looking to advance their alertness.
Not Just Coffee
Not Just Coffee 
first opened its doors in 2011 and has since become somewhat of an institution in Charlotte. At present there are six locations in and around Queen City to choose from, although the one at Dilworth Crossing  
with a full food menu
 and cocktail program is definitely one of the most popular. The coffee-based beverages on the menu all use beans from  
Counter Culture Coffee
 and dairy from the nearby  
Homeland Creamery
. While the eatery is kitted out with state-of the-art equipment that makes an aromatic  
espresso at the touch of a button
, traditional pour-overs are also utilized in many drink recipes. On the menu at Dilworth Crossing, you will find exquisite caffeinated drinks such as a traditional  
espresso
,  
Macchiato
, and the ever popular  
Cortado
 which consists of equal parts espresso and steamed milk. If you like to enjoy your espresso alongside a bite to eat, you can choose from an array of light meals such as the Charcuterie Board, Arugula Salad, and Margarita Flatbread.
Smelly Cat Coffeehouse & Roastery
The Smelly Cat Coffeehouse & Roastery
 is a quaint neighbourhood café that is as well-known for its ambience as it is for its superb coffee. The Smelly Cat not only brews amazing coffee, but they roast their own ethically-sourced beans as well. On their menu you will find, among other delicacies, the  
Noda Nights Espresso
, the  
Sledgehammer
 (2 oz espresso & 2 oz chocolate sauce), a  
Declawed Decaf
, and the best  
Dirty Chai
 in all of Charlotte. As some espressos are best enjoyed with some food in your stomach, be sure to have a look at the food menu, which features everything from homemade biscuits with sausage, egg and cheese to a  
delicious homemade Latin quiche
.
Espressos might not be quite as well-loved as cappuccinos yet, but they continue to rise in popularity. With so many great coffee shops in Charlotte, it is only a matter of time before a freshly-brewed espresso shot becomes the drink of choice for locals and tourists alike.
Comments
comments