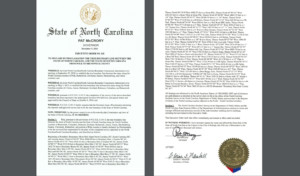 Governor Pat McCrory has just signed Executive Order 118, which effectively redraws the boundary line between the state of North Carolina and South Carolina from Polk to Brunswick County.
finalized the boundary line between North and South Carolina Friday by signing Executive Order 118 after more than two decades of each state seeking clarification.
"This Executive Order is a culmination of more than 20 years of work from leaders in North and South Carolina, I am proud of our efforts to settle this issue and our strong partnership with Governor Nikki Haley and our neighbors in South Carolina," commented Governor McCrory in last night's press release.
When the border was last marked, in 1772, they used rocks, cut marks in tree trunks, and fence posts, but obviously most of those landmarks are long gone.
Researchers combed through old records and century-old boundary surveys to determine where the true borders should now be, and in many places, it's much different than where they currently are.
Work originally started to finalize the boundary between North and South Carolina in 1994, and in May 2013, the Joint North Carolina/South Carolina Boundary Commission completed its work to settle the boundary line. The new state border will officially go into effect on January 1, 2017.
Several property owners are about to find themselves living in a different state, paying different taxes, and submitting to different laws in less than a month.
Comments
comments