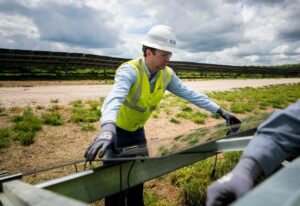 NC Governor Roy Cooper just signed a major piece of energy legislation into law to reduce carbon emissions of NC power generation by 70% by 2030 and make our state 'carbon neutral' by 2050.
House Bill 951 specifically requires North Carolina's Utilities Commission to develop a new Carbon Plan every two years for public utilities, including renewable energy requirements sourced from a combination of wind, solar, batteries and/or natural gas. The bill also allows Duke Energy to set multi-year rate periods instead of the current system, which requires them to justify their rates each year to the utilities commission, which will ultimately save them millions of dollars in legal and admin fees, and potentially allow them to increase rates faster in the long run.
In a press release, Governor Cooper said, "Today, North Carolina moves strongly into a reliable and affordable clean energy future. This new bipartisan law requires the North Carolina Utilities Commission to take steps needed to get North Carolina a 70% reduction in carbon emission by the year 2030 and to carbon neutrality by 2050. Making transformative change is often controversial and never easy, especially when there are different points of view on big, complex issues. But coming to the table to find common ground is how government should work."
While the new bill is being praised by many, others say the compromises to Duke Energy weren't worth it.
"HB 951 sets a goal for 70% reduction in carbon emissions by 2030 and gives the commission authority to get there, but the legislation also provides enough power and oversight to Duke Energy to prevent that goal from becoming a reality," said Josh McClenney, Energy Democracy Field Coordinator with Appalachian Voices. "In addition, the failure to address the concerns of low- and moderate-income ratepayers shows the need for the NCUC, Duke Energy, the governor, and all stakeholders to focus on ensuring the concerns of those ratepayers are addressed. We look forward to working in partnership towards that goal."
What do you think about the new bill? 
Comments
comments