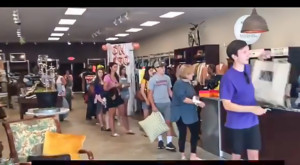 Goodwill recently opened their newest 'GW Boutique' right in the heart of South End (they opened their first location in 2016 on the West Side).
You can now save a ton on designer clothes during your back-to-school shopping and even gear up your child with the latest in new technology in 'The Grid' section of the new store.
Goodwill is describing the news store as a "social, engaging and chic" store aimed at young shoppers, offering brands like Kate Spade, Tory Burch and Coach.
"We're excited to bring the GW brand to South End. With the popularity of the GW store at the Goodwill Opportunity Campus, we've been searching for the right location to introduce a second boutique store with convenient access for Charlotte shoppers," said Barbara Maida-Stolle, chief business officer. "This space on South Boulevard is ideal, bringing a bigger GW to fun-loving, trend-embracing South End shoppers who appreciate a good deal."
Have you been to the new GW Boutique yet?
What are your thoughts?
Comments
comments