It's definitely not new news that Charlotte is growing by leaps and bounds, and with that includes several local start-ups! South End is no stranger to growth and has recently gained a sweet spot on the corner of West Summit Avenue and South Church Street.
The ice cream you can now buy at Golden Cow's new storefront was first created in the kitchen of Alex & Liz Hannah, both Charlotte natives.
As a small batch creamery, the base is made by scratch using real milk, cream, eggs and sugar. The flavors, not so basic… from Pineapple Habanero to Salted Oreo as well as vegan options using coconut milk. We were able to preview a few flavors before the creamery opened its doors this weekend. Salted Oreo was amaze… so much so that it sold out the first day after emptying over 15 gallons!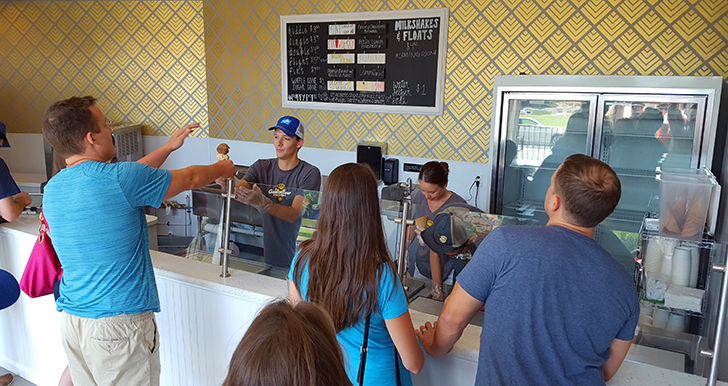 Today they featured 10 flavors, including; Mint Chocolate Chip, Gooey Chocolate Brownie, Strawberry, Fresh Lemon Blueberry, Pistachio, and Dunkaroo's …oh yes, all of you cool kids from the 90's!
With my favorite Salted Oreo missing from the mix I opted for the Strawberry.
If you're familiar with the ice cream that grandma made on the back porch in the churning machine, their Strawberry ice cream has the same texture and graininess – of which I'm not much of a fan.
I also realized if you're going to spend the money, go ahead and go for the single scoop – the kids scoop was somewhat sad for $3:
I also got the inside scoop on the beloved "waffle cone".
Liz Hannah told me that the cones only cost about $1 each to make, but she really wanted to focus all her energy on perfecting the ice cream recipes to start. She said she really hopes to start making her own cones within the next few months.
All in all, you definitely must make a visit and support Charlotte's new small batch ice cream shop.
Comments
comments