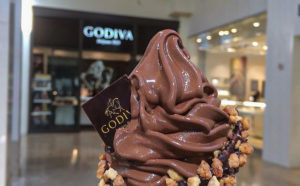 Legendary chocolatier Godiva has just announced that they will be closing all stores in North America due to the pandemic, including here in Charlotte.
The Belgium Company, originally founded in 1926, said they were forced to make the decision after almost 9 months of continued losses from their stores.
"Our brick & mortar locations in North America have had a clear purpose since we first opened our doors in this market – to provide an in-person experience for consumers to enjoy the world's most exquisite chocolates," said Nurtac Afridi, CEO of Godiva in a statement. "We have always been focused on what our consumers need and how they want to experience our brand, which is why we have made this decision."
It's a bittersweet goodbye to one of North America's chocolatiers. Godiva has announced that it plans to close all 128 stores. https://t.co/fzWStvUGFC #godiva #chocolate #godivachocolate #abc7ny #news #covid19news pic.twitter.com/SI7G4U7Z8F

— Eyewitness News (@ABC7NY) January 23, 2021
Here in Charlotte, Godiva operates a store inside the South Park Mall, which will soon be closing along with 127 other locations around North America.
Godiva still plans on selling their chocolates and other treats here online.
Comments
comments