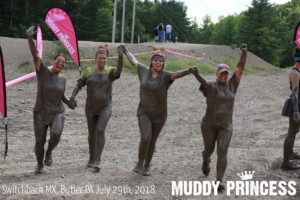 Next month, one of the world's biggest girls-only obstacle-course races will be coming to the Charlotte area. The 'Muddy Princess' run will set up on the sprawling property of Porter Farms in Concord, and will officially kick off on September 22nd.
According to Marketing Manager Christiane Tillmann, "Muddy Princess is an outdoor 5km (3.1 miles) obstacle mud run for WOMEN ONLY with an emphasis on having a "girls' dirty day out" in the mud. Our focus is on fun, team building and women empowerment so we don't have time tracking or competitions and our course of 18+ obstacles has been specially designed to cater for women of all ages, sizes and shapes."
The race promotes a sense of unity and encouragement, allowing for an incredible team-building experience, but they also encourage individuals to enter the race and meet other like-minded mud-runners.
They encourage dressing up (tutus and tiaras are ideal) and for participants to feel free to be themselves and most importantly to have fun – while also being challenged with 18 wide-ranging obstacles.
Muddy Princess was first started in Cape Town, South Africa in February 2016 and, to date, has hosted 20 successful events across 6 cities in South Africa with 57 000+ participants and over 60,000 spectators and supporters.
For more information or to register, visit their website at MuddyPrincess.com. All Charlotte Stories readers can receive $10 off admission using coupon code 'VirgCode10' at Event Brite here.
Comments
comments