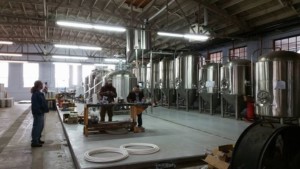 Gastonia's first brewery is about to open in the historic highland neighborhood just sound of I-85 in downtown.
Cavendish Brewery chose to locate in the old Craig Dodge automotive dealership at 207 N. Chester St to not only help revitalize that part of town, but to also give them plenty of room to expand in the future.
They will specialize in "Old World Beers", featuring a number of styles previously unseen or unknown to the Charlotte metro area, including a Belgian Blonde, an India Pale Lager, Robust Porter, IPA and a Dampfbier. They will feature a total of 16 taps that will include many rotating seasonal brews as well.
On April 22nd, from 12pm – 10pm, they will be hosting a grand opening celebration that will be family and pet friendly, with food trucks and music for all.
You can find out more info or RSVP on the Facebook event page here.
Comments
comments