Gaston County Police are now asking for the public's help in finding a man wanting in connection with a double homicide.
The incident occurred on Thursday night at around 11:45 pm near the intersection of Lowery Wood Road and Lewis Farm Road in Kings Mountain, according to police.
When officers arrived, they found two males, Robert Lucas (Luke) Gibby, 22 years old and Adam Kale Wood, 19 years old, unresponsive with gunshot wounds. Gibby and Wood were later declared deceased. About 2 hours later, a 3rd victim, 21-year-old Todd Payton Lee Waggoner, checked himself into Wake Forest Baptist Hospital in Winston Salem with non-life-threatening injuries and told doctors he was at the scene of the shooting earlier in the night.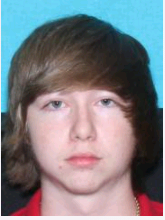 Police say they have now identified 19-year-old Michael Shane Barnes as their primary suspect in the shooting and have obtained warrants for 2 counts of 1st-degree murder and 1 count of attempted 1st degree murder.
Barnes is described by police as being a 5' 8" white male with sandy hair and blue eyes.
According to his Facebook page, Barnes has a tattoo on the top of his right hand:
Barnes is believed to be armed and dangerous. If you see him, please do not interact with him and call 911.
If you have any information about Barnes whereabouts, please contact Gaston County Police Detective J. Brienza at 704-866-3320.
A reward is now being offered for information leading to the arrest and prosecution of Barnes.
Comments
comments