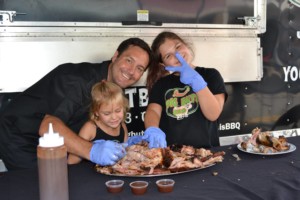 The legendary Smoke in the Mountains barbecue contest just finished up in Galax, Va, and believe it or not, a Gaston County BBQ food truck came out on top.
The annual festival pitted some of the greatest bbq restaurants in the country against each other, including the Shed, a Mississippi restaurant with it's own Food Network show.
Alex Ranucci, owner of Ranucci's Big Butt BBQ, was initially surprised that his slow cooked pork shoulder beat out some of America's top bbq contenders, but he certainly wasn't hesitant to take the coveted banjo when the winner was announced.
Ranucci's Big Butt BBQ is a catering business and food truck that has been a staple in Belmont's food truck scene, and has recently expanded to Steele Creek and Plaza Midwood's food truck festivals.
You can find out where they are going to be next by following their Facebook page here.
Comments
comments