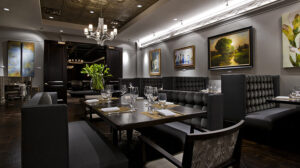 When you walk into a restaurant, the first thing that usually catches your eye are the booths. Whether it's traditional or modern, they set the tone of the dining experience. But what exactly makes each booth unique? Dining out is an experience like no other – one that should be enjoyed in comfort and style. There's nothing quite like settling into a booth and having all your needs taken care of so you can savor your meal in peace. This guide will take you on a journey through some of the most popular booth styles seen in restaurants today, from vintage designs to sleek modern options.
1. Types Of Traditional Restaurant Booths
When it comes to traditional restaurant booths, there are a few different varieties that you need to know about. First, there are the classic diner-style booths, which feature either curved or straight bench seating and an attached tabletop. These are usually made from vinyl or faux leather for durability. Additionally, there's the more formal style of traditional booth that includes upholstered seating with tufted cushions and a wooden tabletop. This style often features armrests as well.
The next type of traditional restaurant booth is the banquette-style booth. This type of booth typically takes up a whole wall of the dining room and has built-in storage underneath the bench seat. It also features tufted cushions and an attached table top. The last type of traditional restaurant booth is known as a captain's chair booth, which is similar to the classic diner-style booths but with higher sides and armrests that can be used as space for plates or beverages.
These styles of traditional restaurant booths have been around for decades and can really add character to any dining space. They offer comfort and a sense of nostalgia for many diners, making them popular options in restaurants today. Whether you're looking for something simple like classic diner-style booths or something more luxurious like banquette-style booths, you're sure to find something that fits your needs and adds charm to your establishment!
2. Benefits Of Traditional Restaurant Booths
When it comes to restaurant booth styles, many people prefer traditional booths over modern options. Traditional booths come with a range of benefits that make them a great choice for any eatery. Let's look at some of the advantages these classic pieces of furniture offer.
To start, traditional restaurant booths are extremely durable and long-lasting. They usually have a wooden frame made from solid hardwood, which is designed to stand up to regular use without showing signs of wear and tear quickly. This makes them well worth the investment, as they can be used for many years without needing repairs or replacements.
In addition to being exceptionally sturdy, traditional restaurant booths also have a timeless charm that helps create an inviting atmosphere in any dining room. With their classic designs and warm colors, these booths can make guests feel comfortable and relaxed as soon as they enter the space. Plus, this type of furniture is often more visually appealing than more modern options, giving restaurants an attractive decor that won't go out of style anytime soon.
Traditional restaurant booths offer multiple advantages for both owners and customers alike. From their sturdiness to their classic designs, these pieces can bring an air of sophistication to any eatery while providing comfort and durability for years to come.
3. Types Of Modern Restaurant Booths
Modern restaurant booths can offer a variety of benefits over traditional booths, but they also come with their own set of challenges. In this article, we'll take a look at the types of modern restaurant booths available to help you find one that best suits your needs.
One popular type of modern booth is the modular booth. Modular booths are great for restaurants that want to customize their seating arrangements and create different configurations depending on their guests' preferences. With modular pieces, you can easily switch things up and move around furniture without having to buy an entirely new set of booths. Plus, modular pieces are often more comfortable than traditional options and can provide a more inviting atmosphere for your customers.
Another option is the banquette-style booth. Banquettes are perfect for restaurants that want to create a cozy atmosphere with plenty of seating space. These types of booths often have built-in storage which makes them great for family-style dining or events with large groups. They also come in many different styles and fabrics so you can find one that matches your restaurant's decor.
No matter what type of modern booth you choose, it's important to make sure it fits within your budget while still providing a comfortable experience for your customers. It's also important to consider how much space you have available in your restaurant so you can ensure the booth will fit properly in the room. Finally, be sure to measure carefully before purchasing any new furniture since some modern styles may require additional assembly or installation instructions than traditional options do.
4. Benefits Of Modern Restaurant Booths
Modern restaurant booths offer a range of benefits to restaurants and diners alike. From improved aesthetic appeal to enhanced comfort, these booths are attractive pieces of furniture that can significantly upgrade the ambiance of any eatery. Let's take a look at some of the advantages they provide.
One major benefit of modern restaurant booths is their aesthetic appeal. They come in a variety of shapes, sizes, and colors, so it's easy to find one that suits the particular atmosphere you're aiming for. Whether you want something sleek and modern or a more traditional style, there's sure to be an option for your restaurant. Another advantage is their customization options; depending on the booth, you can choose from additional features like cushioned seating, armrests, and built-in tables for added convenience.
Another great benefit of modern restaurant booths is their comfort level. Their upholstered seats provide extra cushioning support compared to standard chairs, making them much more comfortable for long meals or visits with friends and family. Many also feature adjustable backrests and armrests that allow diners to customize their seating positions according to their individual preferences — perfect for those who may have back pain or who simply want an extra bit of comfort while they eat.
Modern restaurant booths are incredibly durable because they're made from strong materials like wood and metal frames. This means they won't easily break down over time even if used frequently — ideal for restaurants that experience heavy foot traffic day after day. Furthermore, many come with protective finishes that help keep them looking like new even after years of use! All in all, modern restaurant booths offer a lot more than just an attractive addition to any eatery, they bring greater comfort and durability too! As such, it's no wonder why so many restaurants today are opting for this style instead of traditional ones when updating their decor.
Conclusion
When it comes to finding the right restaurant booth for any space, there are a number of factors to consider. From traditional styles to modern designs and everything in between, customers have plenty of options to choose from. It's important to take into account lead time, installation requirements, and expected lifespan when making a selection. With all these points kept in mind, customers can find the perfect restaurant booth that will provide comfort and style for years to come.
If you're looking for something more unique or vibrant than traditional styles offer, you can always opt for restaurant booths that come in different colors and fabrics. This allows customers to create the exact look they desire without compromising on quality or comfort. With so many choices out there today, it's easier than ever before to find the perfect restaurant booth for any space!
Comments
comments