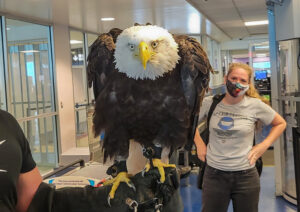 Several Charlotte videos and images are now going viral after a bald eagle and his trainer were spotted going through a TSA security check at the Charlotte Douglas International Airport.
Exotic Animal Trainer Daniel Cone was taking a Southwest Airlines flight home to St. Louis after teaching students at High Point University about the majestic 8-lb bald eagle.
According to a statement the TSA released on Twitter:
"TSA officers are used to seeing an eagle on their uniform as they look over their shoulder, but I'm sure the team at @CLTAirport Checkpoint A did a double take when they saw a real one earlier this week.
Our special guest was Clark the Eagle with the World Bird Sanctuary, who decided to give his wings a break and fly commercial. His airline notified us and we screened him and his handler. Clark is trained to spread his wings, and even showed off a bit during screening."
Our special guest was Clark the Eagle with the World Bird Sanctuary, who decided to give his wings a break and fly commercial. His airline notified us and we screened him and his handler. Clark is trained to spread his wings, and even showed off a bit during screening. (2/2) pic.twitter.com/SMkQAo65aQ

— TSA Southeast (@TSA_Southeast) August 25, 2022
The following video of the massive bird flapping its wings is going viral, already racking up over 100k views:
Mans is out here bringing a bald eagle through TSA at CLT Douglas 😂🦅 pic.twitter.com/zQm0Mlt620

— Elijah Burke (@ElijahWhosoever) August 22, 2022
Comments
comments