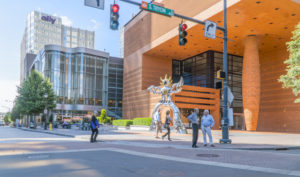 Until recently, it was an uphill struggle for aspiring entrepreneurs to execute an idea and build a business empire out of it. Because, by their job, they had to keep up with a variety of problems. Luckily, the evolution of technology has turned things around, and more and more business-minded people are stepping up for start-ups now. It is one reason why new brands are popping up at unprecedented speed. 
However, despite being well-equipped with technology, many entrepreneurs are still failing in their ventures. A well-documented study claims that as many as nearly 50 percent of the companies around the globe pack up within five years. If you have just invested in a business plan, this figure might ring an alarm for you. But, frankly speaking, there is nothing to panic as we are disclosing the five most essential skills that are the hallmark of every successful entrepreneur: 
Gone are the days when a company needed only bulky resources to stay ahead of the competition. Today, you need creative thinking to keep a business churning and burning. Several large organizations have evaporated from the scene just because they failed to introduce and implement fresh ideas. 
Stagnation mode is the last thing a brand can afford considering the current cutthroat competition. The business world has cluttered severely. Therefore, the best way to stand out from the rest is to come up with innovative solutions, which are the byproducts of creative thinking. Remember, one does turn into a creative thinker overnight. You need to have heel-drag through academic years before leaping innovative solutions. So in case you lack deep-seated business know-how, consider yourself enrolling in an online business degree program. 
We all know that taking a risk is like putting one's feet in unfamiliar territory; you can never be sure about the result. But smart entrepreneurs do not expose themselves to risks just for the sake of it. They do so because business growth and risky decisions are deeply interconnected.  
You can always mitigate the amount of uncertainty by carefully assessing a move. One way to evaluate the possible pros and cons of a business proposal is to exploit the risk calculating formula. It will give you a rough idea of whether the water is cold enough to jump or not. 
Be mindful of the fact that calculated risk is not immune to failure. But that should not stop you from being adventurous because these failures will come up with valuable lessons and improve your decision-making in the future.    
Every day, all businessmen have the same amount of time on their hands. No one gets a single second more than their transparent quota of 24 hours. So why then some of them pull off considerable productivity out of these hours while others lose their time scrambling around? Well, the answer lies in time management. 
Time management enables us to not only perform numerous tasks with equal authority but also within a tight duration.  Being an entrepreneur, you will have to wear multiple hats. And if you get deprived of this ability, you may seem busy on the surface, but will never learn to use time effectively. That way, the work burden will soon take a toll and might give you sleepless nights as well. 
The good thing is that time management skills can be polished. Experts have recommended the following measures to optimize the usage of time: 
 

List down everything:

In all likelihood, you may have a supremely good memory. But it would be a bad idea to always rely on it. Thus, make it a point to write down every single task you have to accomplish in the coming days. Depending on your comfort zone, opt for a digital or conventional notepad. 

Prioritize:

As soon as you complete the listing task, it is time to arrange each job according to its priority. For example, things that require your immediate attention must make it to the top of the list, while less urgent tasks should be at the bottom. 

Set up realistic deadlines:

The next step is to tie-up every task around a timeframe. Make sure the timeline is a rational one; otherwise, you may unnecessarily be subject to burnout.  
Having a professional role model is said to accelerate your path to your career goals. Reading books and articles on social purpose-driven entrepreneurs with a mission will give you an opportunity to learn about topics you may not have considered before. Reading about other people who have made it in the industry will not only provide a template for success for you but will also give you lessons about setbacks and mistakes.
Even in this era of technological tinkering, a businessman is bound to deal with dozens of people regularly. Suppliers, staff, investors, shareholders, and customers, to name a few of them. That is where interpersonal skills can save the day for you. 
Though there is a long list of interpersonal skills, you need to master the following ones to emerge as a top-tier entrepreneur:
Leadership:

No matter how hardworking and intelligent you may be, you can't do everything on your own. Running a business is teamwork. Your

leadership qualities

will motivate others to chip in and work for the common goal. 

Communication:

As mentioned earlier, an entrepreneur must engage with a variety of people day in and day out. Whether you want to sell your vision to a potential investor or sign an acceptable deal with a client, you will have to be on top of your communication skills. 

Ethics:

Have you heard the famous sentence that "employees don't leave their job, they leave their bosses"? Among other things, unfair treatment is also a primary reason why employees bid farewell to the workplace. There is no way you can establish yourself as a successful entrepreneur if you fail to keep your workers happy. So be sure to behave reasonably to the workers right from a higher-up to an intern.  
Business is all about the bottom line. If you are not extracting enough revenue, the organization will eventually come to a halt. Things, like the current status of cash flow, being aware of profits and expenditures, coming up with a tight budget, and handling other money-oriented affairs, tactfully. 
Most of the entrepreneurs own small businesses. Hence, they don't have much of the margin to make financial mishaps because they might lack resources to get back on to the track once again.
The final verdict 
The road to successful entrepreneurship is bumpy. You will have to confront many ups and downs down the road. Read the life account of any successful businessman, and you will find out that their journey was not smooth. But since they possessed the skills mentioned above, no impediment lasted longer. 
Comments
comments