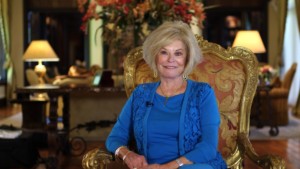 Betty Jane France 'the first lady of NASCAR' just passed away. The Winston-Salem native was credited with founding most of NASCAR's philanthropic endeavors. She was also the wife of former NASCAR chairman Bill France Jr. and the mother of current NASCAR chairman Brian France and vice chairwoman Lesa France Kennedy.
Though her husband and children were involved in making NASCAR what it is today, France was perhaps best known for her charitable efforts.
She founded the NASCAR Foundation in 2006 and was its chairperson for many years, helped establish a children's "Speediatrics" unit at two Florida hospitals and has her name on the Betty Jane France Humanitarian Award presented annually by NASCAR.
France, whose age was not known publicly, saw her children become the key decision-makers in stock-car racing. Brian France is chairman and CEO of NASCAR, and Lesa France Kennedy is the CEO of International Speedway Corp., which owns tracks like Daytona International Speedway.
We all miss you grandma. Thank you for being you still can't believe it #neverforgotten ❤️ pic.twitter.com/0l9dGcK9MC

— Ben Kennedy (@BenKennedy33) August 30, 2016

The NASCAR Hall of Fame just released the following statement:
"On behalf of everyone at the NASCAR Hall of Fame, I would like to send our most sincere condolences to Lesa, Brian and the entire France family on the passing of Betty Jane France. Affectionately and appropriately known as "The First Lady of NASCAR," Betty Jane touched countless lives within the NASCAR industry and many, many more through her extensive philanthropic work. Her impact on the NASCAR community is immeasurable, working mostly quietly behind the scenes in a wide variety of capacities. Words cannot adequately describe her huge heart and her passion for helping those less fortunate and facing serious challenges. Speediactrics in Daytona Beach and the Betty Jane Humanitarian Award are just two of the numerous philanthropic efforts she has led. Betty Jane will be dearly missed, but her incredible legacy of helping others will live on forever."  
Comments
comments