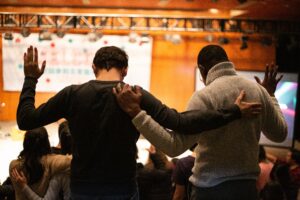 What's one thing that's common in almost every church in the world? Church chairs or pews offer comfortable seating options for all members of a congregation. Chairs for the church are in style, and over 80% of churches are starting to use chairs rather than pews.
Why?
Church chair prices are more affordable, but they're also easier to replace than pews. Most pews are custom-made, so there's a long wait time between ordering and receiving the final product.
Also, if a pew breaks, there's no easy way to replace them. Modern church chairs are simple to swap out and replace. If a single pew breaks, multiple members of the congregation lose their seats.
However, if a single chair breaks, one seat is lost and is very easy to replace.
If your church has settled on purchasing church chairs, it's time to learn how to actually choose chairs to purchase. There are numerous options available, so learn the types of chairs and what to look for when purchasing is a necessity.
How to Find the Best Affordable Church Chairs
You want to purchase wholesale church chairs, but where do you even begin? That's a question that a lot of churches have, and the answer isn't easy. So, what we recommend is that you begin with a full understanding of the types of chairs available:
       

Standard

: Many churches have standard chairs that interlock to keep the chairs in place and provide a uniform look much like a church pew would offer. Padded and comfortable, these chairs are easy to replace and can be swapped out individually.

       

Event

: If a church offers baptisms, weddings or other planned events, these chairs are best. These chairs should stack and provide more durability than folding chairs. However, in recent years, there have been a lot of folding event chairs introduced that maintain a high level of comfort and quality.

       

Meeting

: Many churches hold meetings with local leaders or members of the church. Folding and stacking chairs also work well for meetings because they're easy to bring into and out of rooms.

       

Sunday school

: Churches that hold Sunday school will want to purchase Sunday school chairs. These chairs are smaller, designed for children, so they're a necessity for kids. However, many churches will opt for plastic chairs for Sunday school because they're cheaper and more affordable.
If you know where to buy church chairs locally, you'll want to inquire about all of their chair options. Keep the many types of chairs in mind when making your purchase because you'll likely need a combination of all of them.
Plus, you may be able to snag a bulk discount if you consider all the chairs you need.
For example, let's assume that you need 100 standard chairs. Bulk discounts may be available for just 100 chairs, but add in 50 event chairs, 10 meeting chairs and 40 Sunday school chairs, and you really need 200 chairs.
Sellers are more likely to offer discounts if you buy 200 chairs instead of 100.
What to Consider When Finding the Best Church Chairs
A few of the things to consider when choosing the best church chairs include:
       

Type

: We outlined the different types of chairs above, but genuinely sit down and write down the multiple chair options you may need.

       

Frame

: What type of frame would you like? Wood, metal or plastic? Metal and wood are long-lasting and will offer the best durability. Plastic frames have a higher risk of breakage.

       

Bulk pricing

: The pricing will be a major issue. If you choose to purchase all of your chairs at once, you'll want to determine whether discounts are available. The worst-case scenario is that there isn't a discount available, but most manufacturers will offer some type of discount for big purchases.

       

Stackable and foldable

: Chairs offer a wide variety of possibilities, and their ability to stack or fold will expand these possibilities. Consider both options based on your ability to store the chairs.
Once you find a good church chair supplier, you should discuss all of your concerns with the suppliers. The church supplier will be the most knowledgeable on the different types of chairs to choose from, and they can alert you to great chair options that you didn't know about.
Photo: https://unsplash.com/photos/WNVnnHHcBeM  
Comments
comments